Caravan of 3,000 Migrants Heading to U.S. Offered Jobs by Mexico
(Bloomberg) -- A caravan of up to 3,000 migrants heading to Mexico's southern border won't be turned back, but will instead be greeted with job offers.
President Andres Manuel Lopez Obrador pledged at his morning press conference to find work for some of them in the border region, along with access to medical attention and shelters.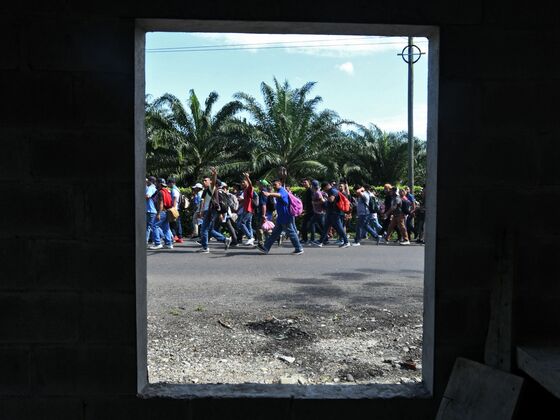 Between 2,500 and 3,000 migrants from El Salvador and Honduras are looking to cross into border towns such as Tapachula in Chiapas and Tenosique in Tabasco, Lopez Obrador said.
Mexico faced generalized tariff threats by U.S. President Donald Trump last year if it didn't crack down on Central American migrants making their way through the country to the U.S. border. In response, it sent tens of thousands of national guard troops to both borders, and crossings into the U.S. decreased dramatically.
Before the threat, Mexico had offered humanitarian visas to migrants, but later made the process far more rigorous due to concern it would trigger a greater influx from Central Americans. Lopez Obrador said he is monitoring the caravan's movements.