Amgen Replaces Two Top Executives, Beats Quarterly Estimates
(Bloomberg) -- Amgen Inc. shook up its C-suite on Thursday with two major changes as the biotechnology company searches for new therapies to replace fading blockbusters facing strong competition.
The executive moves were announced at the same time the drugmaker reported second-quarter results that beat analysts' estimates. The Thousand Oaks, California-based company also raised its full-year guidance for revenue and profit.
Sean Harper, executive vice president of research and development and a 16-year veteran, will be succeeded by David Reese, who had been senior vice president of translational sciences and oncology. In September, Bristol-Myers Squibb Co.'s Murdo Gordon will succeed Anthony Hooper as Amgen's executive vice president of global commercial operations. Hooper, who has held the role since 2011, will stay on to facilitate the transition.
The changes at Amgen come 24 hours after one of the biggest biotech companies, Gilead Sciences Inc., announced the looming departures of Chief Executive Officer John F. Milligan and Chairman John Martin.
Amgen shares rose 1.3 percent in late trading. They were up 11.6 percent this year through Thursday's close.
Amgen is faced with the same struggles as many of its biotech competitors: As its blockbusters confront market maturation and new competition, it must find replacements for past hits. The company's 20-year-old best-seller, the rheumatoid arthritis treatment Enbrel, faces strong competition from drugs such as AbbVie Inc.'s Humira. In the second quarter, Enbrel sales decreased 11 percent to $1.3 billion.
Such pressures make Amgen's newly approved migraine drug Aimovig, along with the company's cholesterol-cutting drug Repatha, key to future growth.
The company didn't break out sales figures for Aimovig, which was approved by U.S. regulators in May. But in a statement, CEO Robert Bradway said the drug's launch was off to a good start.
"Amgen's strong performance in the second quarter was driven by double-digit, volume-driven growth from our new and recently launched products," Bradway said.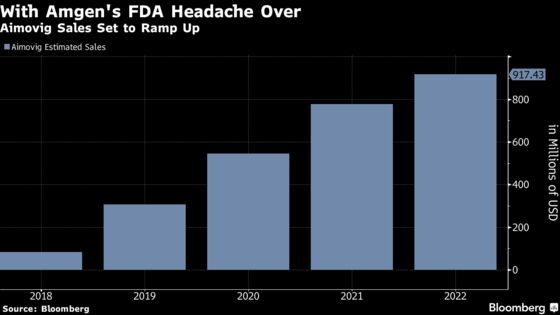 Aimovig, which is marketed with Novartis AG, is a first-of-its-kind treatment that works by blocking the activity of a molecule involved in migraine attacks directly. But despite a large patient population clamoring for new treatments, at $575 a month the injectable drug is facing resistance from insurers. Eli Lilly & Co., Teva Pharmaceutical Industries, Allergan Plc and Alder Biopharmaceuticals Inc. all have competitors in the pipeline, so winning patients early on is crucial.
Aimovig's early hurdles leave open the question of whether it will face similar troubles as Repatha. Once pegged as a sure-fire blockbuster, Repatha's steep price has led to a slower uptake than anticipated.
In December, U.S. regulators approved the drug for prevention of heart attacks and strokes, a development the company hoped would expand patient access. But in May, Regeneron Pharmaceuticals Inc. and Sanofi lowered prices on Repatha's competitor, Praluent. Revenue from Repatha was $148 million in the second quarter, beating estimates, but still nowhere near the blockbuster status analysts had once predicted.
For the second quarter, Amgen revenue came in at $6.06 billion -- analysts had estimated $5.73 billion -- and the company lifted its guidance for 2018 to a range of $22.5 billion to $23.2 billion, up from a range of $21.9 billion to $22.8 billion. It lifted its forecast for adjusted earnings per share to $13.30 to $14, from $12.80 to $13.70.