A Potent Heart Drug's Price Cut May Be a Blueprint
(Bloomberg Opinion) -- It was a big week for health care, with President Donald Trump's ambitious new plan to lower drug costs taking center stage. But there was another big development on the drug-pricing front that may be just as significant.
On Wednesday, Amgen Inc. reduced the $14,500 list price of its potential blockbuster cholesterol medicine Repatha by 60 percent. 
This isn't something that happens for a novel and highly effective drug that has just been on the market for just three years. In fact, it almost never happens at all. List prices — the sticker amount on drugs — typically stay constant and serve as a starting point for negotiations. Discounting comes from behind-the-scenes rebates paid to health plans and pharmacy benefit managers, which serve as the middlemen between pharmaceutical companies and insurers. 
But this isn't any situation. Repatha is in fierce competition with a similar drug, Praluent, which is produced by Sanofi and Regeneron Pharmaceutical Inc. These drugs cost far more than older options like generic Lipitor and because of that, health plans and PBMs — worried about skyrocketing costs — have made it difficult for even high-risk patients to get the medicine. That in turn has dented sales of both medicines so much that Sanofi and Regeneron announced massive discounts for Praluent earlier this year, all but guaranteeing that Amgen would cut Repatha's price, too.
But instead of just matching that discount, Amgen, possibly nudged by the Trump administration's heavy focus on list prices and out-of-pocket costs to patients, took a different route. The result will be a highly interesting experiment in drug pricing that should result in more Americans getting an important heart medicine.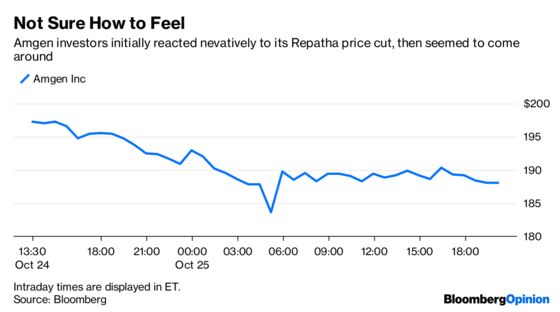 Repatha and Praluent will likely end up having a similar overall cost to the system. But Amgen's choice to cut the list price will have a significant impact on older Americans. The company says that 50 percent of Repatha revenue comes from Medicare benificiaries, but 75 percent of Medicare patients that are prescribed the drug end up never filling the prescription. The culprit is largely cost.
Medicare Part D requires that seniors pay for a chunk of their medicines themselves. For expensive drugs that require so-called co-insurance, that cost is based on the artificially inflated list price rather than the negotiated price health plans actually pay. At the lower list price, out-of-pocket costs for Repatha may drop from as much as $370 to $150 for seniors with co-insurance. Amgen hopes that the price cut will be sufficient to convince health plans to permit patients to pay an even lower fixed co-pay. 
Sales volume should increase as a result, and Amgen needs a boost. Post-approval data that proved these medicines can reduce the risk of heart attack didn't provide hoped-for momentum. 
Other firms with expensive medicines will be watching closely to see if this gambit works, and if it impacts Repatha's sales in the highly important and profitable commercial market. It's a risky move. Amgen likely needs sales volume to increase by quite a bit in order to make up for the price cut. But given how hard it's been for these medicines to get to patients, it makes sense.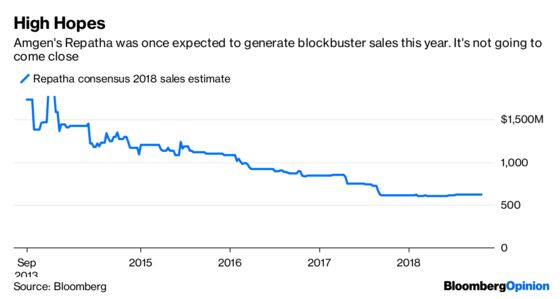 On top of its commercial motivation, Amgen is effectively pre-empting Trump administration criticism and policy moves designed to shame or compel companies into lowering list prices. That's a smart strategy, considering the political scrutiny surrounding drug costs and the degree to which Amgen has benefited from price increases on older medicines. 
Amgen isn't the first company to do something like this. Gilead Sciences Inc. recently announced plans to offer generic versions of its under-pressure hepatitis C drugs at a lower list price. But Amgen's move is arguably more significant considering that sales of Repatha are still expanding, if slowly, unlike Gilead's medicines.
Less cynically, the move represents a company actually choosing sales volume and greater access over a higher price, an idea firms pay lip service to all the time but rarely actually pursue. And it shows that perhaps the drug world could survive if it unilaterally moves beyond the current odd rebate-focused drug pricing system, despite its many past claims to the contrary. 
The high initial price of these medicines and the sometimes warped incentives and structure of the U.S. health-care system has had the effect of shutting off these medicines from many patients who could otherwise benefit from them. Amgen's decision on Repatha is an important move to correct that. If the drug turns out to be a commercial success, it could serve as a blueprint for a more functional approach to pricing medicines.
This column does not necessarily reflect the opinion of the editorial board or Bloomberg LP and its owners.
Max Nisen is a Bloomberg Opinion columnist covering biotech, pharma and health care. He previously wrote about management and corporate strategy for Quartz and Business Insider.