Americans' Earnings Less Robust While Corporate Profits Surge
(Bloomberg) -- Income measures for the third quarter confirmed the U.S. economy was moving along at a robust pace, with strong gains for corporate earnings and less cheer for worker paychecks.
Gross domestic income, which combines all forms of earnings, climbed at a 4 percent annualized rate, the most in four years, Commerce Department data showed on Wednesday. The first glimpse of the figure came in the update on gross domestic product, which showed an unrevised 3.5 percent pace of expansion. GDI and GDP tend to track each other over longer periods.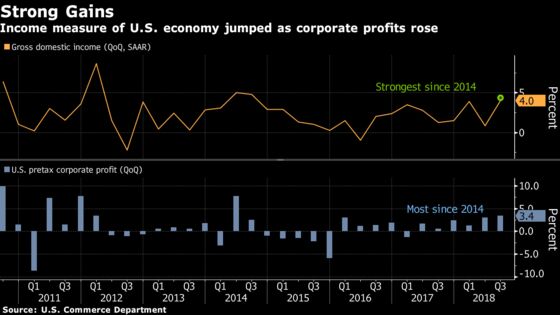 The first take on profits was also bullish: Corporate pretax earnings rose 3.4 percent from the preceding quarter, the most since 2014, and advanced 3.3 percent after taxes. Companies, benefiting from the Trump administration's tax cuts, are in solid shape to spend on everything, from investment and hiring to stock buybacks and higher dividends.
Meanwhile, personal income growth was revised down slightly to an annualized pace of 4.1 percent from a previously-reported 4.2 percent, before adjusting for price changes. Nominal income gains showed an even bigger downward revision for the second quarter, to 3.5 percent from an earlier estimate of 4.2 percent. A sustained acceleration in paychecks is yet to develop even in the tight labor market with the lowest unemployment rate since 1969.