America Has an Opium War. China Hadn't Noticed
(Bloomberg Opinion) -- The weekend's Group of 20 summit in Buenos Aires took many Chinese by surprise. 
Fentanyl, a powerful painkiller 50 to 100 times stronger than morphine, took the spotlight, being highlighted in the White House's press release before any mention of other contentious issues such as trade, forced technology transfer, and cyber theft.
What ensued in Chinese media on Sunday night was a flood of articles explaining what fentanyl is. While this opioid is now notorious for causing an epidemic in the U.S., responsible for more than 40 percent of the country's 72,000 drug overdose deaths in 2017, it's still little-known in China. 
Perhaps it's that Chinese people have been living behind the Great Firewall for too long, oblivious to what's happening in the rest of the world? The country has been very publicly blamed for the epidemic in the U.S. as well as in Canada, with President Donald Trump fuming in an August tweet that this "poison" is "pouring into the U.S. Postal System from China." While China's National Narcotics Control Commission has already placed more than two dozen fentanyl variants on its controlled substances list, it's still very easy to buy opioids on Chinese websites as long as you can pay and provide a shipping address.
Equally likely, fentanyl is simply not a problem in China yet. Anesthetics are used sparingly there. According to the Pain and Policy Studies Group, per capita consumption of opioid anesthetics is only 7.05 milligrams, a tiny fraction compared to the U.S. Of analgesics applied in China's hospitals, the main variant of fentanyl has a tiny 6.3 percent market share. Humanwell Healthcare Group Co., the largest producer there, only sells fentanyl in liquid injection form.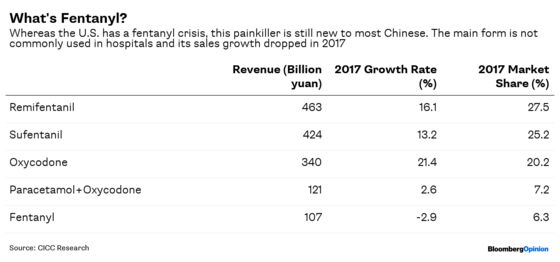 As a result, whereas antibiotics abuse, substandard vaccines for infants, or gene-edited babies are hot topics in China, the middle class hasn't bothered to engage in a conversation as to when opioids become poison instead of medicine. There's no public outcry, and bureaucrats aren't eager to act. 
Meanwhile, China's health care regulators have been too busy with internal shake-ups to bother with America's narcotics problem. In March, Beijing restructured its various ministries, and created three healthcare-related regulators. In July, the bureaucrats' jostling for power only intensified after Changsheng Bio-technology Co., one of China's biggest vaccine makers, was found to have falsified production data on rabies vaccines for babies. Six top officials, including the head of the National Medicinal Product Administration (one of the three newly formed entities mainly responsible for drug reviews and approval) were fired. 

China's propaganda machine was quick to highlight its bargaining chip. America now has its own opium war, and China is coming to its rescue, China Fund – a financial media outlet overseen by the People's Daily – quipped on Monday.
Beijing has been tardy in acting on its role in the fentanyl crisis. But if it now moves quickly, President Xi Jinping will have plucked some very low-hanging fruit in his bid to improve relations with Washington.
This column does not necessarily reflect the opinion of the editorial board or Bloomberg LP and its owners.
Shuli Ren is a Bloomberg Opinion columnist covering Asian markets. She previously wrote on markets for Barron's, following a career as an investment banker, and is a CFA charterholder.