America First Is a Winning Strategy, JPMorgan Says
(Bloomberg) -- America is the way to go.
Markets continue to be driven by "uniquely American" factors such as strong activity data, a central bank that's on the path to being restrictive and foreign policy aimed at systemically important countries, JPMorgan Chase & Co. strategists led by John Normand wrote in a note Oct. 5. That's despite such factors as the long age of the expansion and an "unusually protracted" Federal Reserve rate-hike cycle.
While the U.S. has calmed some waters with developments like the U.S.-Canada-Mexico trade deal, "it's too hopeful to backburner geopolitics into year-end" given the tensions with China and Iran.
Related momentum trades continue to work, including shorting Treasuries and underweighting some EM assets while owning the dollar, U.S. equities, U.S. cyclicals and oil assets, the Normand team said.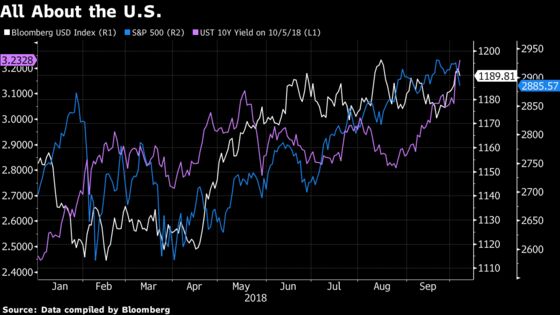 Major mean-reversion trades -- bets that a relationship will tend to revert back to its average level over time -- "will struggle to deliver this fall," the strategists wrote. Those include:
Tighter Bund-Treasury spread
Lower U.S. dollar
Outperformance of emerging markets versus developed ones
Defensive stocks over cyclicals
Value shares over growth
"We hold some of these value trades, but half the portfolio remains U.S.-centric," the report said.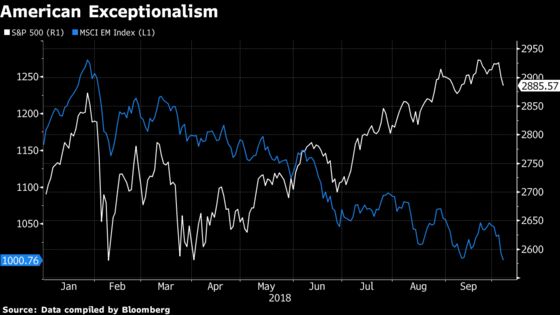 JPMorgan had already predicted an all-out U.S.-China trade war, writing in a note Sept. 28 that it expected 25 percent U.S. tariffs on all Chinese goods in 2019. It subsequently cut Chinese stocks to neutral from overweight. The bank in April predicted that oil would rise as the U.S. sanctions against Iran drew nearer.
"The best catch-all theme is still the hackneyed America First pattern," the strategists said, "where the U.S. leads all other business and central bank cycles but also kindles almost every geopolitical fire."