AMD Surges as Wall Street Cheers 2019 Forecast and 'Execution'
(Bloomberg) -- Advanced Micro Devices Inc. jumped as much as 16 percent in early trading Wednesday, the most in a year, after forecasting high single-digit revenue growth in 2019, as compared to analyst predictions that sales would increase 6 percent.
The outlook shows the chipmaker is "hitting its product cycle stride," Jefferies said, while JPMorgan said it shows AMD is executing well on its products. Other analysts were concerned that AMD has ground to make up after significantly missing its first-quarter forecast, and will have to do so against increasing competition from Intel Corp.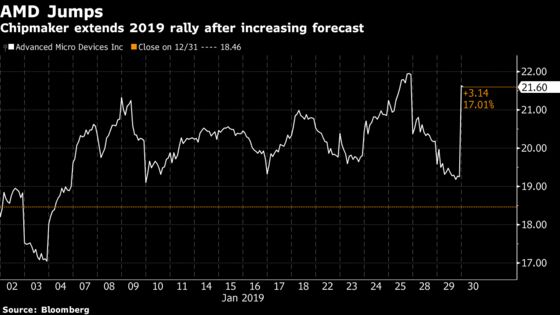 Here's what Wall Street is saying:
AMD is "executing well on its product roadmap and making progress toward its 2020 financial model," Sur said, adding that he expects the chipmaker to drive CPU revenue growth in 2019 for in client PCs and servers as it gains modest market share in both segments.
AMD's is winning "market share gains, solid top-line growth and margin expansion."
Maintains neutral rating, PT to $20 (was $18, according to data compiled by Bloomberg)flds 1
Susquehanna, Christopher Rolland
AMD's first-quarter guidance missed significantly as the "crypto-GPU hangover continued." But "the debate around crypto inventories" is coming to a close while questions surrounding AMD's 2019 guidance begins. AMD's forecast is a "lofty goal" as it calls for average top-line increases of about 20% in each of the last three quarters this year following the "deep" first-quarter correction. If it can achieve its guidance, the stock "should work higher."
Rolland urged AMD to break out PC GPU and CPU revenues "to allow investors the ability to more easily ascertain AMD's progress in each of these areas."
Maintains neutral rating, PT to $22 from $18
Despite lower fourth-quarter revenue, 2018 was a solid year as full-year revenue increased 23% with improving profitability from new, higher-margin product sales.
AMD will continue to execute well on its new product roadmap, Roy said, but he remains "concerned that incremental market share gains for server CPUs and meaningful gains for datacenter GPU share will become more difficult as the competitive landscape continues to evolve."
Maintains neutral rating, PT $20
AMD and Intel will compete "more evenly" in 2019 across a larger portion of the PC and Central Processing Unit markets. Even with the first-quarter forecast miss, management's 2019 outlook of high single-digit growth demonstrates the company's confidence in 7nm product share gains. AMD has a lot to prove to hit its implied guidance.
"While some investors may be hesitant due to well-documented macro uncertainty, we are confident in materially improved financials starting in mid-2019 and a sustainably stronger product roadmap," Ramsay said, reiterating that AMD shares remain a top pick for the year.
Maintains outperform rating, raise PT to $28 from $26
AMD is "hitting its product cycle stride as Intel is struggling to get its advanced manufacturing process node fixed, without a CEO." Expects AMD to ramp new, high-margin MPU products for servers as well as for notebook and desktop PCs and said the company will have a six- to nine-month lead on Intel in servers.
Maintains buy rating, PT $30