AMC Beats Estimates, Even With Movie Attendance Weak
(Bloomberg) -- AMC Entertainment Holdings Inc. posted a narrower quarterly loss, beating analysts' estimates with results that nonetheless underscore the movie industry's struggle to draw fans back to cinemas and compete with streaming options at home.
The world's largest theater chain, struggling under $5.5 billion in corporate borrowings, said Monday its loss shrank to 71 cents a share, excluding some items, better than the 94-cent loss analysts were predicting. Revenue soared to $444.7 million, from virtually nothing a year ago, and was better than the $382.3 million that Wall Street expected.
The company said customers are returning after business collapsed in 2020, with the coronavirus raging across the world and forcing theaters to close. AMC recently set several pandemic-era attendance records, and sold 22 million tickets in the second quarter, compared to about 100,000 in the same period a year ago.
If the recovery continues, the domestic box office could grow to more than $5 billion this year, meaning AMC might be cash-flow positive by the fourth quarter, according to the chain.
"We're well ahead of our own and consensus third-party expectations," Chief Executive Officer Adam Aron said on a call with shareholders. "In short, we crushed it."
AMC stock soared in post-market trading, rising as much as 10% to $37.20, before paring gains. The company has swollen in market value due to a dedicated online army of retail stock traders. Aron threw the online crowd more red meat Monday, saying the chain may take Bitcoin payments by the end of the year and liked their suggestions to play concerts and sporting events in theaters. However, the numbers show a company that still faces clear peril.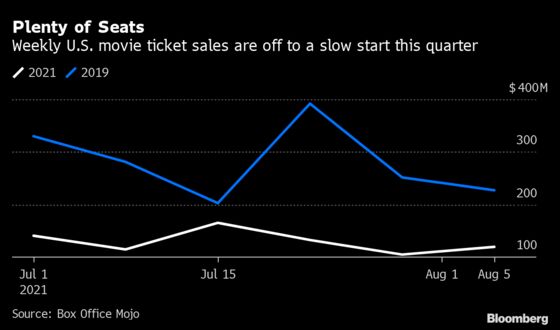 Debt remains high while moviegoing is still far less popular than it was before coronavirus hit. Last weekend alone, "The Suicide Squad," a $185 million DC Comics movie from Warner Bros., failed to generate the $28 million analysts expected, earning just $26.2 million in domestic ticket sales in its debut. A previous movie based on the characters generated $133.7 million in its opening weekend in 2016.
Further, Hollywood studios have shuffled their distributions plans like never before, shortening the amount of time movies spend exclusively in theaters before being put online, and sometimes even placing them on the internet the same day they premiere. The new "Suicide Squad" played on HBO Max for no extra charge the same day it debuted in cinemas.
Some of those changes are temporary measures to ride out the pandemic. For example, AMC also said Monday it signed an agreement with Warner to exclusively show all its 2022 movies for 45 days after their debut, ending this year's pattern of simultaneous online releases. Still, none of the analysts that cover AMC recommend buying the stock, with theater attendance a fraction of pre-pandemic levels. Aron said with the pandemic uncertain, the chain is not "out of the woods."
That harsh reality hasn't deterred Aron, a vivacious CEO known for his verbal swipes at those who doubt the company's future. He said the company now has $2 billion in liquidity on hand, including cash and untapped credit lines. After earlier snapping up two closed theaters, the chain plans to acquire eight more, and aims to open a dozen new locations.
After investors twice rejected AMC plans to issue new equity, Aron said part of his growth plans rely on raising prices. Both ticket and refreshment prices are up, and the chain expects some further increases while it awaits a broader return to theaters in 2022 or 2023. Though attendance continues to rise, the chain sold about a quarter of the tickets it did in the second quarter 2019, before the pandemic.