Amazon's New Fresh Supermarket to Open Soon in Los Angeles
(Bloomberg) -- Amazon.com Inc. is opening the first of a new line of grocery stores in the coming weeks, a key test of the retailer's ability to stand out in a competitive grocery market that already includes its Whole Foods Market chain.
The company on Thursday is inviting test shoppers to try out its first Amazon Fresh grocery store, located in the Los Angeles neighborhood of Woodland Hills. For customers whose purchase can fit in two bags or fewer, the store features a smart shopping cart that automatically tracks what they pluck from the shelf and charges them on the way out. The market also features traditional checkout counters. Shoppers can return products purchased from Amazon at a returns counter, and suscribers of Amazon's Prime program can order ahead for pickup or delivery.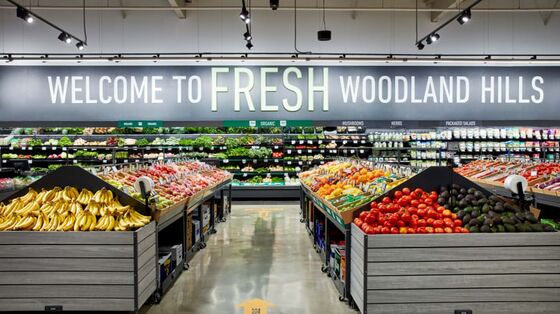 Amazon bought Whole Foods in 2017. But grocery analysts speculated that Amazon, whose website has long prioritized selection over the strict quality controls of the high-end organic grocer, wanted to stock national brands not found on Whole Foods shelves. The Amazon Fresh website prominently touts such brands, with one image featuring Tide laundry detergent, Coca-Cola and Cheerios.
The Woodland Hills store had been widely expected to open earlier this year, before the Covid-19 pandemic complicated new retail launches. Amazon did quietly open the store as a base for deliveries, but hasn't invited shoppers inside until Thursday. The company says the store will open to all customers in "the coming weeks."
Amazon is developing Amazon Fresh locations elsewhere in the Los Angeles area. Job listings also show the company is looking for grocery clerks to staff stores in the Illinois cities of Naperville, Oak Lawn and Schaumburg in the Chicago suburbs.