Amazon Results Spur Near-Term Caution, Long-Term Optimism
Some analysts expressed disappointment with the view, with at least two trimming their price targets. But most found elements of the report to praise, notably the company's dominant position in e-commerce and its fast-growing cloud-computing business. One firm raised its target, while others increased estimates. As Nomura wrote, Amazon's growth trajectory "is still one pointed nicely upwards," although "it is fair to question the magnitude of the trajectory upwards."
The stock fell 4.5 percent at 7:05 a.m. Friday, a decline that could threaten the company's recently-regained title as the biggest on Wall Street by market capitalization.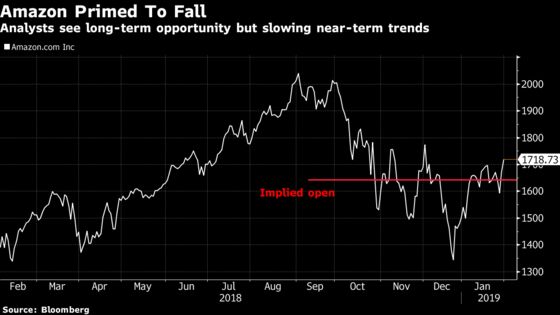 Here's what analysts are saying:
Morgan Stanley (Brian Nowak)
"These results and continued investment speak to how incremental e-commerce growth is becoming somewhat more difficult and expensive."
"While 1Q revenue was light and 4Q deals/discounting speak to a competitive holiday space, the other sources of downside are essentially investment." This "isn't going to let up," but "a slower growing top-line combined with this investment is going to pressure near-term profitability."
Lowers price target to $2,200 from $2,400 but keeps overweight rating.
"Amazon still has a scaling bucket of high margin AWS, advertising and subscription revenue streams that we see enabling the company to re-invest and drive faster growth." Building new businesses could take time, "but valuation isn't stretched compared to growth."
Goldman Sachs (Heath Terry)
"Amazon represents the best risk/reward in Internet given the relatively early-stage shift of workloads to the cloud, the transition of traditional retail online, and share gains in its advertising business, the long-term benefits of each we believe the market continues to underestimate for Amazon."
Lifts price target by $100 to $2,100. Keeps buy rating; Amazon is on Goldman's conviction list.
Nomura Instinet (Simeon Siegel)
The results "clearly showed some slowing trends across various parts of the business."
"Recognizing that N.A. and Prime came up short, it is fair to question the magnitude of the trajectory upwards. However, that trajectory is still one pointed nicely upwards and it remains through higher margin segments."
Has buy rating and $2,050 price target. Lifts 2019 earnings estimate to $30.98 a share from $27.09.
What Bloomberg Intelligence analysts are saying:
Amazon.com's spending cycle will accelerate this year after margin in 2018 benefited from 2017 investments, yet guidance shows the company is able to balance higher wages and expansion plans with rising profit from advertising, Amazon Web Service and Fulfillment by Amazon. Read more here.
Mizuho Americas (James Lee)
"We believe the soft revenue guidance was due to regulatory uncertainty in India and a seasonal mix shift to 3P. In addition, we believe that hiring and capex growth will likely accelerate in 2019, but FC growth will likely maintain at the 2018 level."
Lowers price target to $2,080 from $2,150. Keeps buy rating.
Susquehanna Financial Group (Shyam Patil)
Sees company as "a long-term secular grower with leadership positions in three large growth markets," including e-commerce, cloud computing, and advertising.
"While the modestly lower 1Q revenue outlook and uncertainty around 2019 investment plans could weigh on shares in the near-term, we don't think anything has changed with the longer-term opportunity and remain confident in the secular outlook."
Affirms positive rating and $2,250 price target.