Amazon Gives FedEx and UPS More Reasons to Worry
We shouldn't lose sight of Amazon's interest in transportation and logistics — moving physical goods by land, sea and air, organizing that transportation, storing merchandise or delivering it to the right place. PwC has said this is a roughly $5 trillion annual market, which fits with Amazon's love of attacking massive pools of spending.
There have been developments in recent weeks that might be random data points or hints of Amazon's master plan in transportation and logistics, if it has one.
Amazon and General Motors Co. are discussing an investment in an electric truck company. Amazon was among a group of recent investors in autonomous vehicle startup Aurora Innovation Inc. Last month, Amazon said it would test package deliveries by small robots in a Seattle-area neighborhood. Bloomberg has chronicled Amazon's advances in handling more transportation needs and deliveries with company couriers rather than traditional partners such as the U.S. Postal Service and United Parcel Service Inc.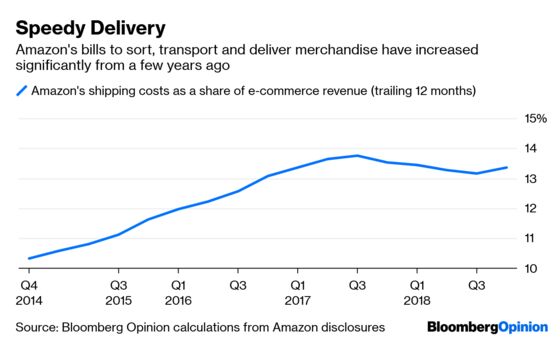 And in a conference call with analysts two weeks ago, Amazon came as close as I've ever heard in declaring its grand ambitions in package delivery. Brian Olsavsky, Amazon's chief financial officer, said the company can often move merchandise more quickly and at a lower cost than a conventional delivery company because Amazon has "more perfect information" about orders in its system and location of merchandise.
This may be reading too much into one executive comment, but to my ears it was different from Amazon's typical explanation of its gradually expanding self-transport and delivery initiatives. Usually, Amazon says that it values relationships with shipping partners such as UPS but that it wants to build out its own delivery operation as a fallback option during busy times such as holidays. "We are driven to supplement their capacity," Amazon CEO Jeff Bezos said at a 2016 conference. "It's not that we're trying to replace it." (Watch starting about 13 minutes into this video). 
By contrast, what Olsavsky said wasn't about complementing. It was that Amazon can be better at handling transportation and delivery of its customers' orders than any outside company. Amazon in its annual securities filing also recently expanded its previous disclosures about competing with transportation and delivery companies.
The idea that has made investors and Amazon watchers curious for several years is whether Amazon might eventually believe it is better than existing options for every company that moves goods from one place to another, not only for items bought on Amazon's digital shopping mall.
The huge volume of existing packages — about 2 billion a year in the U.S., Cowen & Co. estimates — helps Amazon learn the delivery routes that hit the most homes. It's already paying for those routes. How much harder and more expensive would it be to layer on more deliveries to those routes from other companies? That's the worry for FedEx Corp. and UPS investors.
The natural comparison is Amazon Web Services. The company had already built data centers and servers to support its online store. Turning this into a service for others required different technology and a lot of work, but the initiative let any company rent Amazon-caliber computing horsepower. It is FedEx for computing.
Amazon has never articulated an overarching strategy in transportation and logistics, and it may simply be feeling its way as it does in many other areas. The company has the trust of investors to muddle along for many years until it hits on the right approach. 
At that same 2016 Code conference, Bezos said that "most companies, especially larger companies, give up on things too soon." That doesn't seem likely to be a problem for Amazon in shipping and logistics. 
This column does not necessarily reflect the opinion of the editorial board or Bloomberg LP and its owners.
Shira Ovide is a Bloomberg Opinion columnist covering technology. She previously was a reporter for the Wall Street Journal.