New Manhattan Prosecutor Will Inherit Decision to Take On Trump
(Bloomberg) -- Alvin Bragg's election as the next Manhattan District Attorney puts him in control of the most significant criminal investigation of Donald Trump, but a decision on whether or not to charge the former president himself will likely be made by his predecessor. 
Bragg, 48, on Tuesday became only the fourth elected leader of the office in the past 80 years. He will be sworn in on Jan. 1, replacing Cyrus Vance, who decided not to seek a fourth term in office. 
In his remaining weeks on the job, Vance, 67, intends to make a decision on whether to charge Trump with a crime, according to people familiar with his thinking, who asked not to be identified discussing confidential information. Vance told the Financial Times in September that his "goal is to complete decisions about charging before I leave." 
In July, Vance charged the Trump Organization and its longtime chief financial officer, Allen Weisselberg, with an array of tax-related crimes associated with untaxed benefits that Weisselberg received, including the use of luxury cars and apartments. In coming weeks, Vance's office could file similar charges against others who received the same types of perks that Weisselberg got, according to the people close to the matter. The former president has not been charged.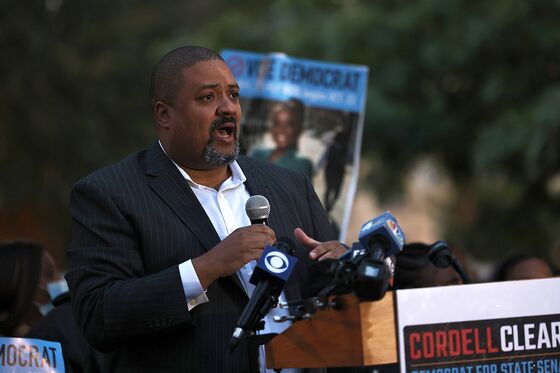 Charging a former president with a crime would be unprecedented and have far-reaching effects. It would also inevitably play into the 2022 and 2024 elections. Trump has not yet said whether he will run again for the presidency in 2024. 
Spokespeople for Vance and Bragg declined to comment. A Trump spokesperson didn't immediately respond to an email seeking comment, and a lawyer for the president declined to comment. 
"If you look at this from a distance, Vance has nothing to lose by charging Trump if he's got enough evidence," said E. Danya Perry, a former federal prosecutor. "But he's circumspect, and will listen to the seasoned lawyers he's surrounded himself with."
Bragg and Vance met at least once since June, people familiar said, after Bragg won the Democratic primary and became the presumptive heir to the office. Bragg, who spent last week representing Eric Garner's family in an inquiry about his 2014 death at the hands of police, is expected to make his first visit to the office as its designated next occupant within days, the people said. 
Vance's team will brief Bragg and his senior advisers on issues ranging from how the office works to a review of significant cases currently in the pipeline, including the Trump investigation.  
Bragg campaigned on reforming the District Attorney's office, pledging to end "mass incarceration" and investigate police misconduct. He said little about the Trump case on the campaign trail, other than noting that years earlier he was part of the New York attorney general's civil suit against Trump's charitable foundation, which was shut over misuse of funds. He told New York Magazine in July that he planned to keep the District Attorney's team investigating Trump "intact."  
Bragg views the Trump case as Vance's responsibility all the way up through Dec. 31, and does not expect to be consulted beforehand on the question of whether the former president should be charged, said a person familiar with his position on the matter.  
Trump's lawyers have repeatedly said the probe is a partisan exercise designed to hurt the former president.
 
Vance launched the investigation more than two years ago, after Trump's former lawyer Michael Cohen testified that the company routinely low-balled the value of assets in order reduces taxes and insurance rates, while inflating values of the same assets in order to secure bigger bank loans. His quest to obtain Trump's tax returns went all the way to the U.S. Supreme Court. 
 
"You do what's best for the case," said Samuel Buell, a former federal prosecutor who teaches at Duke University School of Law. "But an elected official like Vance, who's probably not planning to run again for office, is more legacy-oriented."