Altria Slides After Showing Cigarette Volumes Keep Falling
Revenue excluding excise taxes missed the lowest analyst estimate. It also said industry-wide cigarette volumes will keep falling this year.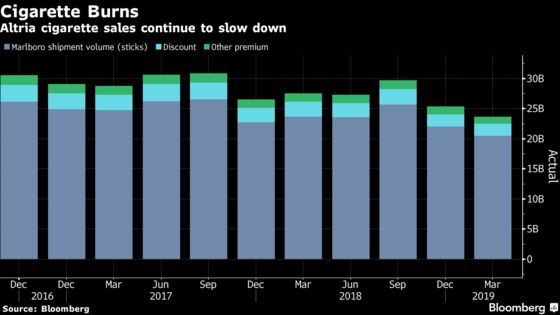 The company's cigarette shipments plummeted 14.3 percent in the first quarter, after a 4.4 percent slide the previous period, mirroring a wider industry trend toward alternative products. The faster pace of decline signals the company may need to ramp up its investments in other product lines.
It now expects industry-wide cigarette sales to fall between 4 percent and 5 percent this year, compared to the wider 3.5 percent to 5 percent range it had forecast at the start of the year. Further declines in cigarette sales could be ahead amid a growing movement to stop selling tobacco products to buyers under 21.
Altria has been waiting for federal approval to market Philip Morris International Inc.'s IQOS cigarette-alternative in the U.S., but it gave no new updates on that timeline Thursday. Altria has said it's still committed to the deal, despite having taken a stake in Juul Labs Inc., which has a vaping device that some see as a competing product.
Investors looking for more information have plenty of chances ahead: There's an earnings call coming later this morning, plus an annual meeting slated for May 16.
Shares fell as much as 7.3 percent to $50.70 -- the most intraday in three months. They'd gained about 11 percent this year through Wednesday's close, shy of the S&P 500's 18 percent rise.
Get more on the numbers here.
Read the company statement here.