Altria's Rating Takes a Hit as S&P, Fitch Downgrade to BBB
(Bloomberg) -- Altria Group Inc.'s credit grades were cut two levels to BBB by two ratings firms on its proposed deal with Juul Labs Inc., adding yet another company to the lowest tier of the investment-grade ratings.
Juul sold a 35 percent stake to Altria in a $12.8 billion deal, valuing the San Francisco-based e-cigarette company at $38 billion. That, combined with Altria's investment in Canadian cannabis company Cronos Group Inc., will take the tobacco giant's leverage to nearly three times a measure of earnings, S&P Global Ratings said in a report Thursday. Fitch Ratings followed suit later in the day.
The deal did little to appease Altria's stock or bondholders. Its shares fell the most since July 2015, and bonds due 2044 dropped to a record low of 94.8 cents on the dollar, Trace bond price data show. The cost to insure Altria's debt against default for five years rose to as high as 97.73 basis points, the highest since January 2012, according to data provider CMA.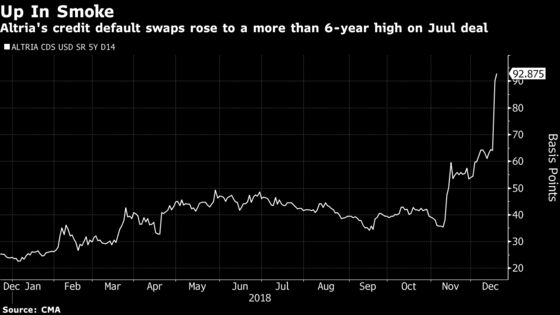 "We view both investments as long-term plays that will not provide meaningful returns in the next couple of years," S&P analysts said in the note. While Cronos provides Altria with exposure to the cannabis market, it won't be profitable in the near term, S&P said. And even though Juul could start paying dividends in the next few years, they probably won't be significant, the analysts wrote.
Altria, based in Richmond, Virginia, did not immediately return a request for comment. On a conference call Thursday, the firm's executives said the Juul deal will generate cash after one or two years and that the e-cigarette maker's "significant" growth is expected to continue.
Altria is already lining up the financing for the transaction. It entered into a one-year term loan agreement for $14.6 billion, most of which will be used for the Juul deal while some will be set aside for the Cronos investment, according to a filing Thursday. JPMorgan Chase & Co. is providing the facility.
Altria joins a growing list of companies that have sacrificed credit ratings in pursuit of acquisitions. Investors have voiced concerns that credit raters like S&P and Moody's Investors Service have given companies too much leniency when determining ratings after large deals, which often come with large debt piles relative to a company's earnings.
S&P was the first one to pull the trigger on ratings at Altria, which it said has $25 billion of pro-forma reported debt. Later Thursday, Fitch also lowered the company's ratings two notches to BBB. Moody's did switch Altria's outlook to negative from stable, according to a statement Thursday. Moody's rates the company A3, four levels above speculative grade.
Ratings may be turning more conservative for deals now, which could reduce the size of M&A funding needs, or the number of transactions, JPMorgan strategists led by Eric Beinstein said in a Nov. 20 report. Moody's recently lowered ratings on both Anheuser-Busch InBev NV and Takeda Pharmaceutical Co., citing high debt loads after their respective acquisitions.
Altria may not fit the same trend, according to Bloomberg Intelligence analyst Joel Levington. The Juul deal brings with it no Ebitda, or earnings before interest, tax, depreciation and amortization, and increases leverage, so the BBB rating is warranted and arguably where Altria had been for awhile, he said. But for other companies rated BBB looking to do acquisitions and maintain their investment-grade ratings, undertaking debt-financed deals has become much more difficult, he said.
"You have to start putting in equity or becoming more creative in finding ways to achieve that consolidation without tripping leverage," he said. "That's where it becomes more of a sticking point for sectors like consumer staples where you've already seen a lot of activity take place."