Altria Names Billy Gifford as CEO After Howard Willard Steps Down
(Bloomberg) -- Altria Group Inc. named Billy Gifford, a longtime veteran at the tobacco company, as its new chief executive officer, taking on the daunting task of sorting out a diversification strategy that went awry under predecessor Howard Willard.
Willard, 56, who is recovering from Covid-19, retired following a 28-year career, including almost two years as chief executive, Altria said Friday. His departure caps an ignominious year for the executive, whose ambitious plan to expand beyond cigarettes ran into trouble when stakes in e-cigarette maker Juul Labs Inc. and pot company Cronos Group Inc. lost billions of dollars in value.
The pressure on Willard became clear when Altria halted his bonus in February, specifically citing the $13 billion investment in Juul in late 2018, his biggest and most controversial bet. The Richmond, Virginia-based tobacco giant was forced to mark down the value by about two-thirds after Juul faced blame for helping spark an epidemic of teenage vaping.
Gifford, 49, comes from the company's core tobacco business, and will immediately have urgent tasks to tackle, including a U.S. antitrust suit to reverse the Juul deal. Juul and Altria also face a growing number of lawsuits from state attorneys general, school districts and parents blaming Juul's popular vaporizers for hooking teens on nicotine. Altria said in January it recorded a total of $8.6 billion in charges related to its Juul investment last year.
Altria shares gained as much as 3.8% to $41.95 in trading Friday. Since the Juul investment in December 2018, the company's shares slumped 21% through Thursday's close, while the Standard & Poor's 500 Index rose 12% during that time.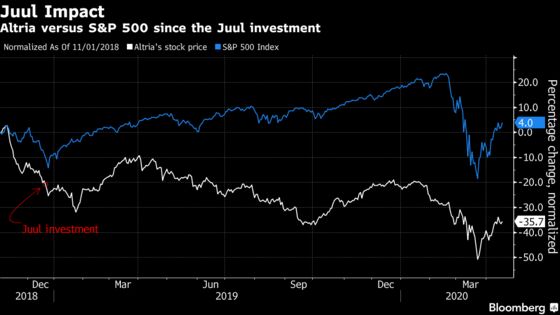 Gifford has held numerous leadership roles during his more than 25 years at Altria, including most recently vice chairman and chief financial officer, where he was also responsible for the company's core tobacco businesses.
The board also separated the roles of CEO and chairman that were held by Willard, and appointed Thomas Farrell, formerly its independent presiding director, as independent chairman. Salvatore Mancuso, a 29-year veteran at Altria, will become the new chief financial officer.
As he exits, Willard will get the continuation of his salary and pension benefits for around one more year, and an $8.8 million cash payment in lieu of the stock he had been granted in 2018 and 2019, which he forfeited through his retirement, according to a regulatory filing. He won't be compensated for forfeiting his 2020 stock awards.
Willard, who took over in May 2018, had led the company into new territory, branching out into cannabis and vaping through the Cronos and Juul deals. Meanwhile, sister company Philip Morris Inc. remained focused on a gradual shift away from cigarettes through its in-house development of so-called "harm reduction" products.
When Willard closed Altria's investment in Juul in late 2018, the Silicon Valley company had started to draw scrutiny for its appeal to youth. Soon after, in the summer of 2019, Juul's reputation suffered from an outbreak in lung injuries among vapers, before the suspected culprit became tetrahydrocannabinol (THC)-containing e-cigarette, or vaping, products. Willard said on an earnings call that the company had expected a "range of scenarios" when it made the deal and didn't see the lung injury issue coming.
The Juul deal ran into even more trouble when the Federal Trade Commission challenged the union this month, accusing Altria of having dropped its own e-cigarette products in the fall of 2018 because of a secret deal that would let it buy Juul. Altria has said it will defend the deal and that the FTC misunderstood the facts.