Tobacco Stocks Jump After FDA Threatens E-Cig Crackdown
(Bloomberg) -- Tobacco stocks are rallying the most in a decade following the U.S. Food and Drug Administration's announcement that it's cracking down on e-cigarettes in an effort to combat youth vaping.
Altria Group and British American Tobacco gained the most intraday since 2008, rising as much as 7.7 percent and 6.9 percent, respectively. Philip Morris rose the most in more than three years. The agency has asked that the five top-selling national e-cigarette brands submit plans on how they will address youth access and use of their products.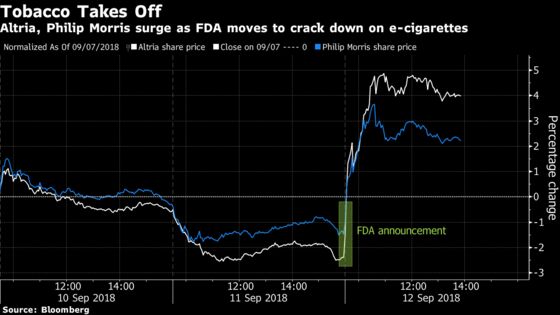 Tobacco investors have grown increasingly concerned that the widespread popularity of e-cigarettes is having a negative impact on the old-school industry, a headwind expected to grow as its products from companies like Juul continue gaining traction with consumers. Big tobacco has yet to find a productive way to meaningfully compete against Juul, making the FDA's move a positive for the companies, according to Cowen analyst Vivien Azer.
If the ban were to happen, Altria Group is mostly likely to benefit, Wells Fargo analyst Bonnie Herzog wrote in the note today.
"Given the market's overarching concerns about Juul's impact on cigarettes, especially Marlboro, we think a potential 'ban' on Juul would be positive for MO," Herzog wrote.
Jefferies is also bullish on how the FDA's actions will affect major tobacco players.
"Anything that slows down Juul market share is a positive and this is what we think we will see in all possible outcomes around the '60-day' action," Jefferies analyst Owen Bennett said in reference to the 60-day window the FDA is giving manufacturers to submit their plans.
The five brands the FDA has addressed are: Juul, Vuse, MarkTen XL, blu e-cigs and Logic.