Alphabet's Disclosures Aren't Enough to Offset Revenue Miss
(Bloomberg) -- Alphabet Inc. shares fell on Tuesday, after the company's results undershot expectations, with analysts disappointed by a slowdown in the Google owner's U.S. sales as well as lack of color on the reasons behind it.
Analysts at Evercore ISI said that a shorter holiday period could be behind slower revenue growth for the quarter, though a lack of detail from management didn't give investors much certainty of a re-acceleration in the near-term. Jefferies wrote that the revenue "could have been better," although the negative reaction to the results looked like a buying opportunity.
Despite the lower-than-expected revenue, Wall Street did find things to like in the results. In particular, analysts noted new disclosures for Alphabet's YouTube and cloud businesses, as well as an increase in share buybacks.
The stock fell as much as 3.2% in its biggest one-day percentage drop since August. Even with the slide, however, the stock remains up more than 20% from an October low, and it has recently traded at record levels.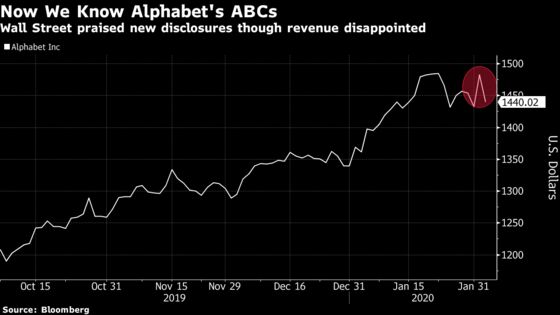 Here's a summary of what analysts had to say.
The new disclosures were a positive surprise, as was the acceleration in cloud-related revenue. However, overall revenue "could have been better."
Notes "high expectations" going into the quarter, and says the valuation "looks attractive" with the post-earnings sell-off.
Morgan Stanley, Brian Nowak
Overweight, price target $1,560
At $15 billion, YouTube revenue was about 30% smaller than expected, though growing 300 basis points faster than expected on a year-on-year basis. On one hand, that means YouTube's growth runway is arguably longer than thought, but on the other, GOOGL must continue to innovate to drive engagement and monetization.
Cleaner disclosure will make it easier for investors to see the impact of company's budding monetization engines like Maps, Discover, an e-commerce suite of products.
2019 global search revenue was ~6% higher than expected, which speaks to the even-larger underlying free cash flow that GOOGL has to re-invest or let flow down, given that search is the group's highest incremental margin business.
Evercore ISI, Kevin Rippey
Outperform, price target $1,600
"Biggest surprise" was the flood of new disclosure. Relative scale and growth rates of YouTube and cloud are fairly close to Evercore ISI's prior estimates and investor expectations, so likely won't provide a material change to growth outlooks.
Enthusiasm for improved disclosure aside, the quarter's revenue result falls below expectation, and similar to Facebook Inc., U.S. revenue demonstrated a marked deceleration.
While we suspect the explanation for the slowdown is substantially a function of the shorter holiday season, management wouldn't quantify, leaving investors without much certainty for near-term re-acceleration.
Overweight, price target $1,535
YouTube sales were "notably smaller" than the $24 billion revenue JPM had estimated for 2019. On the flip side, "Google Search and Other" grew faster than expected last year and appeared to accelerate in the fourth quarter.
While the mix of advertising revenue differs from expectations, we believe it shows the sustainability of search growth, led by mobile, and the headroom for YouTube, especially as bigger TV dollars begin to shift online.
Comments around buybacks suggest upside to JPM's previously modeled $20 billion of repurchases in 2020.
Outperform, raises price target to $1,550 from $1,500
Quarterly earnings per share were "light," but the miss was driven by "lower-quality" areas like other bets.
There were also key positives in the report, including the new revenue disclosures and expansion in core Google operating margins and record high share repurchases.
While Alphabet presented a "very solid" quarterly earnings report across the board, short-term heightened investor expectations might cause stock price digestion.
Overall, broker is convinced in "our thesis on the collection of operating businesses and long-term upside optionality. That said, as with almost every GOOG earnings release, there were nuances such as on costs and other bets that may cause debate."