Alphabet on Verge of $2 Trillion Valuation After Earnings Surge
(Bloomberg) -- Alphabet Inc. is within striking distance of reaching a $2 trillion valuation for the first time after a strong earnings report sent its shares soaring. 
The Google-parent's shares rose to a record on Wednesday with an advance of as much as 6.7%. The gains added more than $110 billion to Alphabet's market valuation, which now stands at about $1.97 trillion, according to Bloomberg data.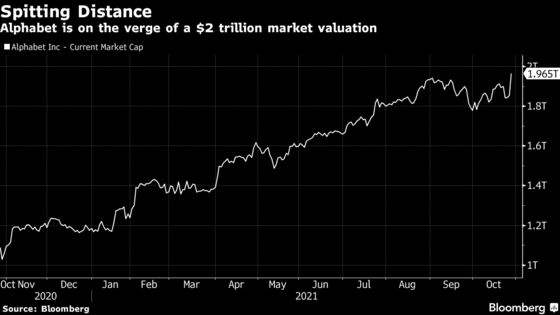 The Mountain View, California-based company would become the third U.S. company to reach the $2 trillion mark, joining Apple Inc. and Microsoft Corp. Oil giant Saudi Aramco also has a valuation in excess of $2 trillion. Amazon.com Inc., the next biggest U.S. company, has a market capitalization of $1.74 trillion.  
On Tuesday, Alphabet reported revenue that beat Wall Street estimates fueled by strong spending from advertisers. The stock has now gained 69% this year, trouncing the performance of the other four biggest U.S. technology companies, which also includes Facebook Inc.