Almost 20% of U.K. Workforce Furloughed as Third Lockdown Got Under Way
(Bloomberg) -- Almost one in five of the U.K. workforce was on furlough leave as a third national lockdown to combat the spread of the coronavirus got under way, according to figures published Thursday.
The report will raise concerns that removing government lifelines for jobs could wreak havoc on the economy following the worst slump in three centuries last year. Pulling the plug would threaten to decimate consumer spending, the engine of growth.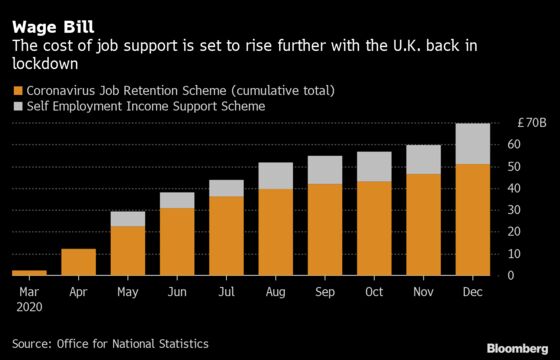 The Office for National Statistics data show 17% were reliant on Treasury wage support in early January, the highest proportion since July, after the government ordered the public to stay home and retail and hospitality businesses were closed. The program pays as much as 80% of an employee's wage if they're kept on the payroll.
The figures come a day after Prime Minister Boris Johnson put England on notice that the national lockdown will continue for at least another six weeks, warning that some rules may even be tightened in an attempt to suppress a virus that has claimed more than 100,000 lives in the U.K.
The government has committed almost 300 billion pounds ($411 billion) to emergency support for the economy. Pressure is building on Chancellor of the Exchequer Rishi Sunak to extend furlough beyond April after figures this week showed joblessness rising to its highest since 2016.
"The winding up of the scheme in just three months' time is expected to cause a fresh wave of unemployment," said Charlie McCurdy, a researcher at the Resolution Foundation. A flexible transition is vital "to avoid millions of workers simply moving from furlough straight into unemployment."
The hardest-hit sectors are hospitality, restaurants, the arts and leisure, where around half of the workforce on average is furloughed, according to the ONS.
Spending on credit and debit cards in mid-January was still 35% below levels in February 2020, before the pandemic hit, while more than 70% of firms in the accommodation and food sector said they were at some risk of insolvency, the data also showed.
Separate tax authority figures Thursday indicated over 3.8 million jobs were furloughed as of Dec. 31, little changed from November when a partial lockdown was imposed.
That total is on course to top 5 million in January, leaving the number of people either furloughed or unemployed at close to 7 million.
State-backed loans made to businesses struggling with the pandemic totaled almost 72 billion pounds as of Jan. 24, with the Bounce Back Loan Scheme accounting for more than a half.