Allogene's Monster Biotech IPO Defies Market Rout
(Bloomberg Opinion) -- In a standout year for biotech IPOs, Allogene Therapeutics Inc.'s market debut may be the most remarkable yet.
The company raised $324 million Wednesday in a richly priced stock sale that instantly made Allogene one of the biggest biotech IPOs yet. On Thursday, in the teeth of a messy market, the shares climbed some 30 percent on their first day of trading. 
Allogene accomplished this on the strength of its leadership: The company is run by Arie Belldegrun and David Chang, who sold cancer-drug developer Kite Pharma Inc. to Gilead Sciences Inc. for an eye-popping $12 billion last year.
Allogene is working on a next-generation version of the cell-therapy treatment known as CAR-T, which made Kite such a hot commodity — so it isn't surprising to see some excitement around the company and its prospects. But the single drug Allogene has in human trials doesn't justify its rise from an idea to a $2 billion-plus valuation in less than a year. It's a case of a biotech management premium run amok.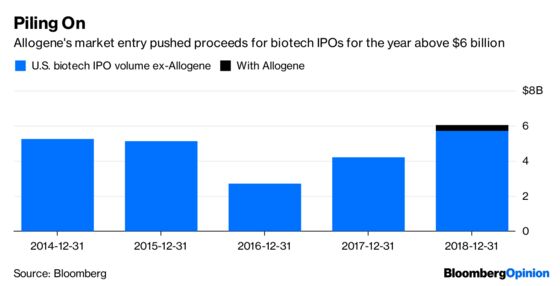 Belldegrun and Chang top the exceedingly short list of people who have gotten a cell-therapy cancer drug to market, and that matters a great deal, given how new this field is. Kite went from an IPO to approval and megasale in just three years. 
But Allogene will have to succeed on its own merits. The company is focused on an "off-the-shelf" approach to CAR-T; its medicine can be made from any donor. Kite's drug is made via an expensive bespoke process. Off-the-shelf success could make CAR-T substantially cheaper and quicker and easier to administer. 
But there's only limited early-stage data that suggests this approach can be safe and effective. The first generation of CAR-T drugs have gotten off to a slow start in the market; Allogene's medicine will have to hurdle a very high safety and efficacy bar in order to succeed. 
Many others are clamoring to come off the shelf. Allogene's lead drug is particularly far along, but its competition includes Atara Biotherapeutics Inc. and Fate Therapeutics Inc. among many others. Bigger firms such as Gilead, Celgene Inc., and Novartis AG are also investing in next-generation cell therapies.
If scientific risk and a crowded market aren't enough to suggest that Allogene's valuation might be inflated, just look at the original developer of Allogene's medicines. Allogene licensed its lead medicine and a series of pre-clinical assets from Pfizer Inc., which had in turn licensed them from French biotech firm Cellectis SA. Cellectis, which is still due substantial payments if these drugs succeed and still has multiple wholly owned CAR-T treatments, is currently worth less than half of what Allogene is.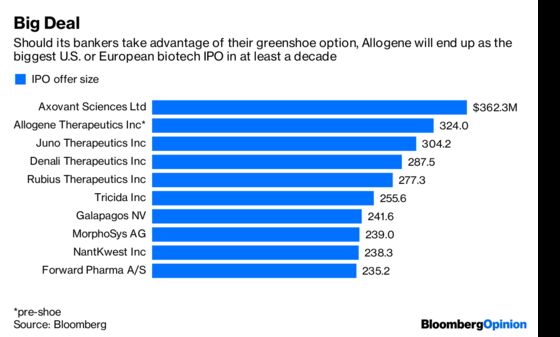 Biotech investors should know that bets on past management performance don't always work out.
Axovant Sciences Ltd., a company Allogene passed on the ranking of the richest biotech IPOs, had as its lead drug a dubious big-pharma castoff that had previously failed in Alzheimer's trials. Shares soared after David Hung — who had previously sold Medivation Inc. to Pfizer for $14 billion — took over as CEO. The drug flopped in September 2017, shares plummeted, and Hung soon left. Clovis Oncology Inc.'s CEO sold his previous company to Celgene, and investors clambered aboard. The firm's lung-cancer drug failed to live up to expectations in 2016, sparking a sell-off that cut the firm's value in half, and Clovis attracted SEC attention for misleading shareholders about the medicine.
Neither are perfect comparisons, and Chang and Belldegrun have been excellent stewards of capital. But investors should be wary of putting too much emphasis on who is running a biotech, and too little on what it's trying to do. 
This column does not necessarily reflect the opinion of the editorial board or Bloomberg LP and its owners.
Max Nisen is a Bloomberg Opinion columnist covering biotech, pharma and health care. He previously wrote about management and corporate strategy for Quartz and Business Insider.