The Soybean Market Has Its Eye on Trump's Dinner Date With Xi
(Bloomberg) -- The soybean market is laser focused on Donald Trump's dinner date.
Agriculture traders are on edge as the U.S. president prepares to meet Xi Jinping, his counterpart from China, on Saturday amid the Group of 20 meeting in Buenos Aires. The question of the hour: Will the leaders get closer to a trade deal, or at least move to a tariff truce?
As tit-for-tat tariffs ratcheted up between the countries, soybeans became the poster child of the trade war. China started shunning U.S. supplies and Chicago futures tumbled as a result, beleaguering American farmers. In the final days heading into the G-20 meeting, Trump started to give the market some hope with positive comments about how close the nations are to striking an accord.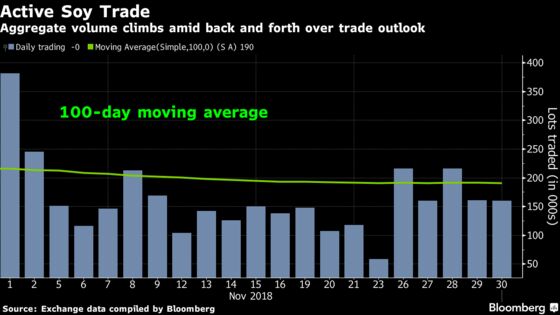 Traders are hanging on Trump's every word (and Tweet), trying to parse out the future for soybean demand. As discussion moved from the possibility of more tariffs on China to deal optimism, the back and forth left some investors cross-eyed. A measure of implied volatility jumped to the highest since August and futures volume rose. Underscoring the apprehension, hedge funds got more bearish on the oilseed just days before prices posted the best weekly rally in five weeks.
"The sentiment has changed multiple times over the last two weeks," said Matt Gallik, a market analyst for CHS Hedging LLC. "We know something is coming -- we just don't know what."
It's hard to overstate how important China is for the soybean world. It's the biggest consumer by far, using the oilseed as a protein in livestock feed. Chinese tariffs on U.S. shipments have completely turned usual trade flows on their head. Major exporters like Argentina are now buying dirt cheap American supplies, while domestic premiums in soy king Brazil surged earlier this year.
Many traders and farmers are hoping a China-U.S. pact can help bring things back to normal, or at least make them more predictable.
In Chicago, January soybean futures volleyed between gains and losses for several days before finally settling up 1.6 percent in the week ended Friday. Just three days earlier, hedge funds boosted their net-short position to 63,862 futures and options, according to data from the U.S. Commodity Futures Trading Commission. The holding, which measures the difference between bets on a price increase and wagers on a decline, was the most bearish in about a month.
Long-only positions and short-only holdings climbed simultaneously as investors grew divided over the market outlook.
There are signs that some traders are moving to the sidelines amid the expectations for higher volatility. Aggregate open interest in soy futures dropped to 732,129 contracts as of Thursday, exchange data compiled by Bloomberg show. That's the lowest since early January.
As the leaders meet over the weekend, U.S. markets will be shut and won't reopen until Sunday night. Depending on the outcome of the meeting, it could be "wild" when trading starts up again, Jim McCormick, a soybean analyst for Allendale Inc. in McHenry, Illinois, said in an emailed report on Friday.