Alexa, What's Wall Street Saying About Amazon's Earnings Beat?
(Bloomberg) -- Amazon.com Inc.'s record second-quarter profit drew a flurry of price target boosts on Wall Street. Analysts say strength in the cloud and advertising business, as well as operational improvements, have positioned the company for long-term growth. The shares rose 4 percent in pre-market trading in New York and are on track to open at a record high.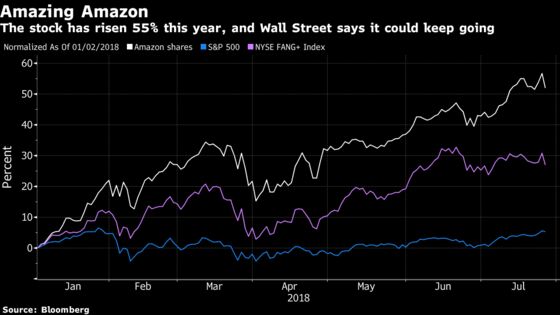 Here's a roundup of what analysts are saying about the results:
Goldman Sachs, Heath P. Terry
(Buy, raises price target to Street-high $2,300 from $2,100)
Amazon's second quarter profit was "well above" average estimates, with expanding margins driven by cloud, advertising and fulfillment efficiencies. Currency-neutral revenue growth slowed on tougher comparatives.
The market continues to underestimate the long-term financial benefit to Amazon of the shift of workloads to the cloud and the transition of traditional retail online, both of which are still at the early stages.
"We continue to believe that we are in the sweet spot between Amazon investment cycles where new fulfillment/data centers are driving accelerating growth while incremental capacity utilization and efficiency is driving margin expansion."
(Outperform, raises price target to Street-high $2,300 from $2,100)
Gross margin and operating income were both above expectations, helped by better operational efficiencies and an increased shift to higher-margin businesses including cloud and advertising: "Alexa, did Amazon crush 2Q margins? Yes."
Alexa and Echo are experiencing sustained growth, and Amazon is demonstrating its reach in Europe and Asia with further roll-outs of Echo. Meanwhile, its growth among third-party hardware partners is "even more impressive."
But it wasn't all positive: the 39 percent jump in revenue year-over-year was 1 percent below analyst estimates. Excluding Whole Foods, Amazon's revenue rose 28 percent year-over-year, Blackledge estimates.
UBS, Eric J. Sheridan
(Buy, raises price target to $2,150 from $1,830)
Amazon painted a picture of sustained growth with e-commerce, cloud and advertising gaining scale and a pace of gross margin expansion that is becoming a "chronic spot" for beats versus Wall Street estimates.
Sheridan says that while some investors could focus on slower paid unit growth and little to no upside in North America e-commerce revenue, those points were "overwhelmed" by a better margin profile, commentary on cloud, and prospects of building and scaling a global digital media and advertising platform.
Despite a 55 percent year-to-date gain, UBS still sees Amazon reaching new highs over the next six to 12 months with help from seasonally strong periods for shopping and advertising.
Loop Capital Markets, Anthony Chukumba
(Buy, raises price target to $2,200 from $1,900)
"The days of investors complaining 'Amazon does not make any money' are long past, as the company increasingly benefits from growing high margin revenue streams"
While revenue came up short of Loop's expectations, earnings were more than double its estimates. "We have no interest in splitting hairs."
(Outperform, price target raised to $2,110 from $1,875)
There's a "large runway ahead" due to the combination of Prime offering more selection, convenience and digital offerings, and Amazon's leading ability to apply data and compute across a growing number of transaction types.
Sena sees opportunities for continually higher margins and sustained innovation in cloud and advertising.
KeyBanc, Edward Yruma
(Sector weight, no price target)
Amazon may be transitioning to an earnings story, instead of a revenue story, as online growth slows and the company begins to lap the Whole Foods acquisition.
The cloud unit is "raising the bar for margins." Yruma boosts 2019 cloud profit and revenue estimates as adoption of cloud services is occurring unabated for the largest platforms.
Retail growth is likely suffering a bit from the "law of large numbers" with the company now facing such high comparatives. The third-quarter revenue growth forecast was below Street expectations, and sales growth could slow further.
Bloomberg Intelligence, Jitendra Waral and Charles Allen
"Margins are hitting an inflection point. Margins expanded in its retail and cloud business due to better economies of scale, and thanks to Fulfillment by Amazon and advertising."
"Amazon's pursuit of rapid third-party sales growth might slow overall revenue as Amazon only books the fees collected on such sales vs. gross sales for its own inventory."
Prime Day should support third-quarter revenue amid currency headwinds. "Amazon management suggested that Prime customers were adopting Whole-Foods related discounts at among the fastest rates compared with other Prime benefits."