Aldi Gaining Ground in Grocery War
(Bloomberg) -- Attention grocers: Aldi is coming for your customers.
The German discount chain that's blanketing the U.S. with its no-frills stores was the choice of almost one in five shoppers who recently switched grocers, according to Morgan Stanley research. That's more than Costco, Target, Kroger or Amazon-owned Whole Foods, highlighting Aldi's growing appeal.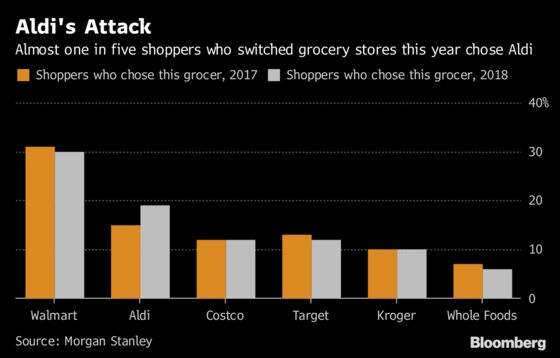 Aldi's U.S. encroachment mirrors what it's already accomplished in the U.K., where its market share has risen to 11 percent from just 1 percent in 2011. And Aldi's recent moves will likely lure even more shoppers to switch: The retailer will offer grocery delivery in 35 states via Instacart by Thanksgiving, and it's expanding its range of vegan and organic products. The German chain also plans 700 new U.S. locations, which would bring its store count to about 2,500 by the end of 2022.
Walmart and Kroger still dominate the $840 billion U.S. food retail sector, accounting for a combined one-third of the market, far above Aldi's 2 percent. But Aldi's advance has forced them to slash prices, compressing their already-thin profit margins. And there's an Aldi located within five miles of about half of all Walmart and Kroger stores, leading Morgan Stanley analyst Simeon Gutman to conclude that "the war of attrition has begun."