Alcohol Deaths Jump 20% to a Record in England and Wales
(Bloomberg) -- The number of alcohol-related deaths in England and Wales surged to a record last year, underscoring the toll being taken by the Covid-19 pandemic on health and wellbeing.
There were 7,423 deaths caused by alcohol misuse in 2020, a 20% jump from a year earlier and the highest level since the data series began in 2001, according to Office for National Statistics figures published Thursday. In the final three months of the year they accounted for 13.6 fatalities per 100,000 people.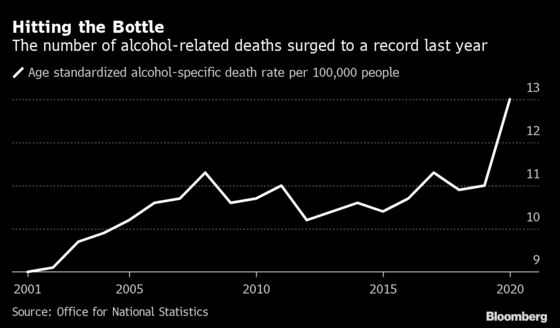 The data highlights concerns that people have been hitting the bottle to cope with the stress and isolation caused by a year spent largely in lockdown, leading to an increase in liver disease and mental health problems. Alcohol-related deaths in the first quarter of 2020, which mostly covered a period before Covid restrictions came into force, were similar to previous years. The number has increased each quarter since then.
Analysis of the figures for England also highlight how the pandemic is widening health inequalities. The rate of deaths among men was 4.2 times higher in the most deprived areas than in the least deprived, up from 3.8 times higher in 2019.