Alan Anders, Oversaw New York City Debt For Decades, Dies
(Bloomberg) -- Alan Anders, who oversaw New York City's bond sales for decades, including a landmark issue to finance the redevelopment of Hudson Yards on Manhattan's west side, died Saturday after several months of illness unrelated to the coronavirus pandemic, the city said in a statement. He was 71.
Under Anders' leadership, New York issued hundreds of billions of dollars of debt to build schools, parks, affordable housing and other critical infrastructure.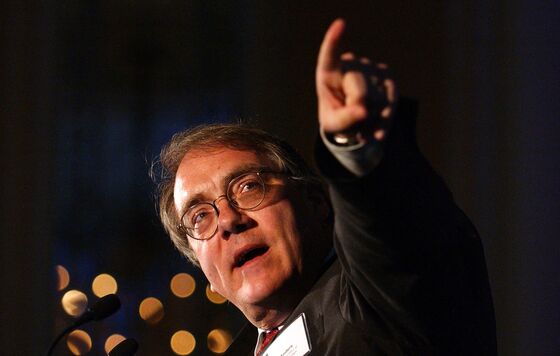 "It is no exaggeration to say that generations of New Yorkers benefit from his life's work," New York City Mayor Bill de Blasio said in a statement.
As Deputy Director for Financing Policy and Coordination within the Mayor's Office of Management and Budget, Anders's work since 1990 spanned four different mayoral administrations. He vetted and selected Wall Street banks that vied to underwrite New York's debt and steered the city to credit-rating upgrades following the Great Recession. Moody's Investors Service raised the rating on the city's debt to Aa1, its second-highest rating in March 2019.
Anders was instrumental in establishing the Hudson Yards Infrastructure Corporation, which financed the redevelopment of a 45-square block area southwest of Times Square from parking lots and warehouses into offices, apartments, shops and parks. The debt, which was backed by payments in lieu of taxes by developers and city funds, financed the extension of the No. 7 subway line to the new neighborhood.
"He was level headed, insightful and creative," said Marvin Markus, a Goldman Sachs Group Inc. managing director, who worked with Anders on structuring the Hudson Yards deal. The city issued $2 billion bonds for Hudson Yards in 2006 and another $1 billion in 2011. It refinanced the debt in 2017.
"As a banker it is always the best situation when your client has a deep understanding of the complexities surrounding capital market execution. Alan had that," Markus said.
Anders also helped create the city's Transitional Finance Authority in 1997 to get around limits on its general-obligation bond sales. The authority's securities are insulated from the city's budget deficits because state law doesn't allow it to file for bankruptcy and they are backed by the city's income tax and, if needed, its sales tax -- a source of security that allowed New York to borrow at low interest rates.
Anders, who steered the city's financing program through the Sept. 11 terror attacks, the Great Recession and Hurricane Sandy, will be missed as the city confronts its greatest financial crisis since the 1970s, said Howard Cure, managing director for municipal bond research at Evercore Partners.
"These all had huge impacts on the city," said Cure. "You needed someone who knew finance and had the expertise and could think creatively about how the city could cope given that they're statutorily restricted in a lot of ways in using their property-tax base."
Under Anders, in 1999 New York City was the first municipality to issue bonds backed by revenue from a national settlement with major tobacco companies, using the proceeds for capital projects. A former public finance banker at JPMorgan Chase & Co. before entering public service, Anders knew what to do to get the best deal for the city, said Alfredo Quintero, a former Merrill Lynch & Co. banker.
"If your results didn't meet his standards, if you were 'asleep at the switch' -- a favorite expression of his, you wouldn't get a pass," said Quintero, now at Samuel A. Ramirez & Co. "And you would take the bench until you proved that you had learned your lesson."
Anders was the recipient of numerous awards for his service in public finance, including a lifetime achievement award from Municipal Forum of New York last week. He championed the Municipal Forum's Urban Leadership Fellows program, which provided summer internships for under-represented high-school students interested in public finance. Many of these interns worked with Anders at the Office of Management and Budget.
"Alan was truly a giant in our industry, and New York City is a better place as a result of his long service at OMB," said Marjorie Henning, New York City's deputy comptroller for public finance, and former general counsel at the city's Office of Management and Budget. The city's financing programs serve as a model throughout the country for their innovations, she said.
Outside public finance, Anders had a passion for movies and was devoted learning French so he could enjoy his favorite films in their original language. He is survived by his wife Suzi.