AIG Rises by Most Since 2011 as CEO Points to Turnaround Signs
(Bloomberg) -- Investors aren't blaming Brian Duperreault for the forces of Mother Nature.
American International Group Inc. shares surged as much as 8.1 percent on Thursday, the biggest increase in almost seven years, as the insurer showed improvement in a key metric for Chief Executive Officer Duperreault's turnaround strategy. That overshadowed a surprise loss from natural catastrophes in Japan and the U.S.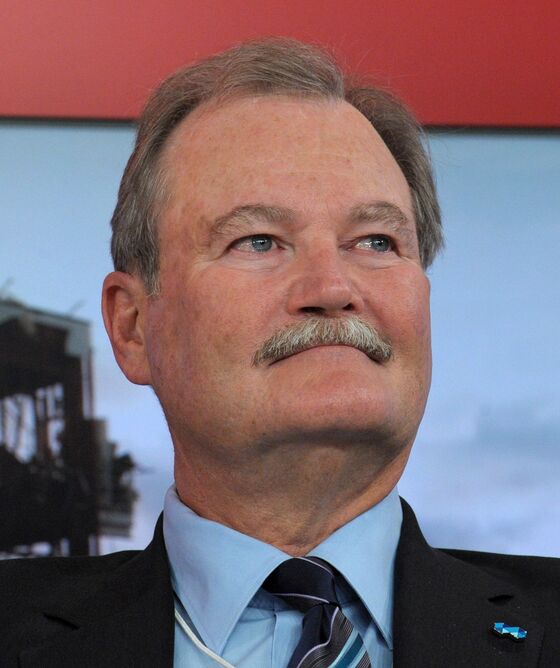 Duperreault, who joined last year as CEO, has been given the task of restoring confidence in a company that had suffered losses and an exodus of talent. He's declared 2018 the "year of the underwriter" with a goal of having AIG post an underwriting profit by the end of the year. He reiterated that pledge after announcing third-quarter results.
"We are making progress toward positioning AIG for the long-term," Duperreault said Thursday on a conference call discussing third-quarter results. "We continue to work deliberately and thoughtfully and with a sense of urgency to improve our core underwriting capabilities, reduce volatility, deliver an underwriting profit."
A ratio that shows the amount of losses that AIG has to pay out relative to the premiums it earns on policies improved to 63.6 percent in the company's general insurance business, which offers property-casualty coverage. That was a "long-awaited" improvement, according to Keefe, Bruyette & Woods Inc. analyst Meyer Shields. The change was one of the biggest positives in AIG's third-quarter results, Wells Fargo & Co. analyst Elyse Greenspan said Wednesday in a note to clients.
AIG shares rose 4.8 percent to $43.28 at 10:29 a.m. in New York. They rose as high as $44.63 earlier Thursday, their biggest increase in intraday trading since the end of November 2011.
Executives on Thursday laid out further actions, including tweaking reinsurance coverage and expanding the duties of AlphaCat CEO Lixin Zeng to help with underwriting in the general insurance business. The comments from AIG's new chief actuary for general insurance, Mark Lyons, added to the positive nature of Thursday's call, given his endorsement of AIG's underwriting actions despite Lyons being a "self-described cynic," Shields said.
Still, some analysts expressed skepticism about other aspects of the earnings report. Other units, including the life and retirement business, reported slightly weaker-than-expected results, according to RBC Capital Markets analyst Mark Dwelle. AIG also added to reserves tied to losses from last year's California wildfires, a move that might "bring back the question of turnaround strategy," according to Buckingham Research Group's Amit Kumar.