AI-Generated Portrait Sells for $432,500 in an Auction First
(Bloomberg) -- It's signed by the artist: min G max D Ex[log(D(x))] + Ez[log(1-D(G(z)))].
A portrait created by artificial intelligence fetched $432,500 at Christie's in New York on Thursday, the first time a computer-generated artwork was offered by a major auction house.
The print on canvas, titled "Edmond de Belamy, from La Famille de Belamy," depicts a blurry and unfinished image of a man. Displayed in a gilded wooden frame, it was estimated to fetch $7,000 to $10,000 and offered as the final lot at Christie's auction of prints and multiples.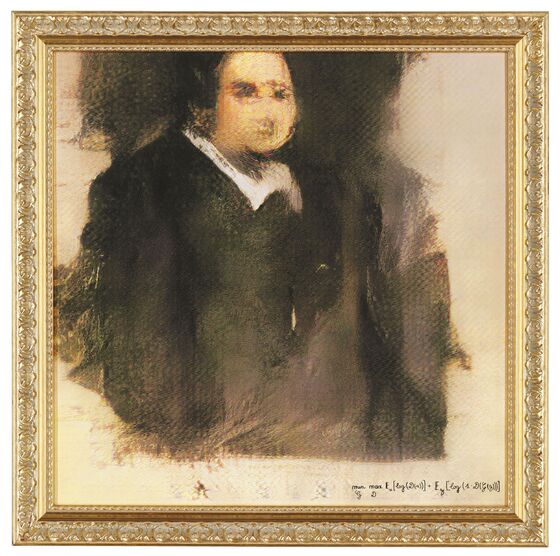 The work was the brainchild of Obvious Art, a Paris-based collective, with help from an algorithm known as GAN (Generative Adversarial Network).
"We fed the system with a data set of 15,000 portraits painted between the 14th century to the 20th," collective member Hugo Caselles-Dupre told Christie's.
The piece sparked a bidding war among five parties that lasted about seven minutes, with an anonymous phone buyer prevailing, said Christie's spokeswoman Jennifer Cuminale.
"It is an exciting moment and our hope is that the spotlight on this sale will bring forward the amazing work that our predecessors and colleagues have been producing," the collective said in a statement. "We are grateful to Christie's for opening up this dialogue in the art community and honored to have been a part of this global conversation about the impact of this new technology in the creation of art."