After a Dim First Year, Luminary Is Still Chasing the Podcasting Zeitgeist
(Bloomberg) -- When Luminary Media launched in April 2019, its goal was to become the Netflix of podcasting — delivering a tantalizing mix of original ad-free shows and aggregated programming that could convince loads of people to start paying for podcasts. Backed by $100 million in funding, the company spent lavishly for exclusive rights to podcasts from TV stars like Trevor Noah and Lena Dunham and rolled out an aggressive marketing campaign with outdoor ads in Chicago, New York, Austin and Los Angeles.  
A year later, Luminary is still struggling to live up to those grand ambitions. Over the last 90 days, the company hasn't cracked the Top 500 entertainment apps in the U.S. in average daily iPhone downloads, according to the mobile insights and analytics firm App Annie. A few notable creators, including former Obama adviser David Axelrod, have recently left the service. And several podcasters who have worked with Luminary said that few people seem to be listening to their shows, despite being given big budgets and creative freedom. 
Over the past year, the app has been downloaded about 200,000 times in the U.S., compared with about 1.2 million downloads for Stitcher, another podcasting service with a subscription tier, according to App Annie. A Luminary spokesperson disputed that data, saying it has had nearly 800,000 downloads. The company declined to say how many subscribers Luminary has.
"I have not seen any suggestion this app has blown up or built anything that feels like a base," said Nick Quah, who writes the industry newsletter "Hot Pod." "I don't think they ever had a show that made people say, 'I'm dying to download this thing.' And you really need that."
Now Luminary is regrouping. In October, the company announced it had raised another $30 million in funding and named former HBO executive Simon Sutton as chief executive officer, replacing founder Matt Sacks, 29, who has moved into an executive chairman role. In January, Richard Plepler, the former head of HBO, joined Luminary's board.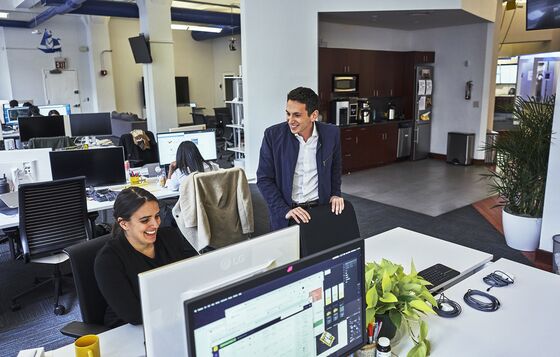 In an interview, Sutton said recent moves like improving the app's technology, expanding into additional English-speaking countries such as Ireland, New Zealand and South Africa, and lowering the price to $5 a month from $8 are bringing in more subscribers. "As non-music audio, we're never going to be as popular as somebody like Netflix or Spotify," Sutton said. "But I think we're really executing within the niche we need to."
Luminary is facing an increasingly grim business environment. With more people staying home due to the coronavirus and not listening to shows on their commute to work, podcast consumption  has declined. Like many media companies, Luminary has been forced to cut costs due to the pandemic. Sutton is giving up his salary for the year, and there have been pay cuts across the company, which has 70 employees in New York and Chicago. Even so, Luminary has managed to grow its subscriber base by 14% in the past six weeks during the lockdown, according to the company, with 40% of new subscribers coming from outside the U.S. 
Initially, Luminary pursued a programming strategy that looked a lot like the game plan at Netflix, offering established podcasters more money than they could get elsewhere in exchange for exclusive rights to their shows. With fierce competition from free services, Luminary needed to recruit a slate of talent already attracting large numbers of loyal listeners who might be convinced to pay if there were no other way to hear their favorite shows. Luminary initially projected it would be able to convert 25% of the audience for popular, free podcasts into paid subscribers, according to a person familiar with the matter. But from the get-go Luminary struggled to convince many of the industry's biggest names to make the leap.
Its relationship with the podcast community got off to a rough start. Shortly after launch, creators began complaining that Luminary wasn't sending them full listener data. The company has since made changes to share that data. Last year, the company caused a stir by tweeting a photo of a bunny holding a sign saying: "Podcasts don't need ads," which some in the industry saw as a dig at the way they made a living. Joe Rogan, one of the biggest names in podcasting, asked to have his show taken off of Luminary's platform, saying the company didn't have his permission to distribute it.
Since then, a few prominent hosts have stopped making shows for Luminary subscribers. In January, former Obama aide David Axelrod's podcast, "The Axe Files," left Luminary and returned to CNN Audio. Axelrod didn't respond to a request for comment, but said in a statement at the time that he had a "great experience" with Luminary. Sutton said Axelrod wanted "a broader-based audience for his interviews."
Recruiting on-air talent is now a top priority. Sutton said that the recent arrival of Plepler, a legendary showbiz networker, is already helping to strengthen Luminary's outreach to the creative community. "He's in the mix of every creative discussion going on in this country," Sutton said. "He's funneled more ideas to us in a month than we could afford to pay for in a year."
In an interview in mid-April, Plepler said he is orchestrating pitch meetings and wooing free-range storytellers. He also praised Luminary's vision for a premium, ad-free podcasting service and expressed confidence in Sutton's ability to execute it. "They've got a terrific team in place focused on a great concept, which is to create a brand in a very crowded environment that curates ad-free, quality content," Plepler said. "That is at its heart a very good concept."
Plepler said it's premature to assess Luminary after just one year. "Like all startups, it takes some time to iron out the kinks," he said. "But I think they've done a fabulous job in the last six or seven months in making enormous strides."
Luminary has, of late, been adjusting its programming strategy, telling partners it's no longer as interested in scripted programming and, in some cases, reducing the money it offers creators. 
Sutton said Luminary is still open to all kinds of shows, but narrative documentaries and talk shows with a strong point of view, like Lena Dunham's program, are particularly important to the service. He disputed that Luminary is paying less for shows than it once did. He said the company is looking to expand its distribution, potentially by cutting deals that bundle its app with mobile-phone service or other media subscriptions.
At a time when many media and entertainment companies are contracting, Luminary plans to keep investing in original programming. "Luminary was created as a way for creators to showcase their best work," said Guy Raz, the host of the service's "Wisdom from the Top." "What is important to me as a content creator is to get to work with a company that has taken a big and bold step in trying to reinvent audio."
It took several years, Sutton pointed out, for his former employer HBO to attract a large subscriber base and to find zeitgeist-defining shows. He said Luminary will benefit as podcast-listening grows and more consumers show a willingness to pay for ad-free entertainment, whether it's audio or video.
"It's inevitable that this business model will succeed," he said.