Ghana Cocoa Farmers Bemoan Dryness as Nation Holds Vote
(Bloomberg) -- Dryness continued to threaten cocoa crops last week in Ghana, while rains eased further across parts of top grower Ivory Coast.
While it has been cloudy recently, no showers have fallen for the past month and farmers crave rains to aid cocoa pods, said David Soffo, 43, a grower in Yakasi-Newtown on Ghana's southwestern border with Ivory Coast. No. 2 grower Ghana is voting for a president on Monday and many farmers are looking for the government to provide support, especially if crops are hurt by weather.
"Farmers are suffering, the rains have failed and so we can't even take advantage of the increased farmgate prices," said Francis Gyabeng, also a grower in Yakasi-Newtown.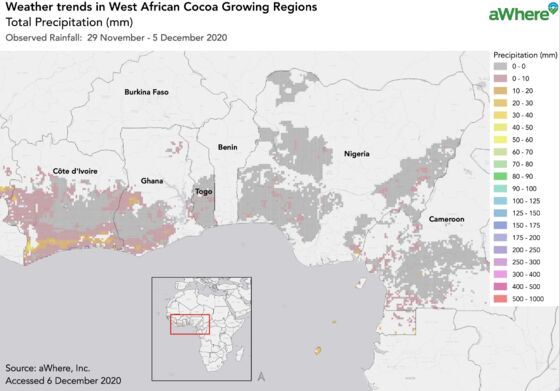 Rains have eased in parts of the country, as the dusty seasonal Harmattan winds from the Sahara slowly descend on West Africa. Plantations haven't produced many pods this year and growers hope for better fortunes in the January-March period, said Jean Koffi Konan, a farmer in the western town of Guesabo.
Still, another farmer in the west said trees are faring well, rainfall is acceptable and that conditions are good enough for also drying beans. In the southeast, some farmers are worried about swollen-shoot disease.
Farmers in the center production region were happy with sunshine last week and have been able to dry beans for the market in several days, said Seraphine Lydie Ossoh in Lekie, north of Yaounde.
While farmers are generally happy with harvests this season, they're worried about a cash crunch that's hurting sales.
"Buyers are not approaching us as they say they are short of funds to make purchases with," said Ebuta Akor, a farmer near Ikom in the southeast.