Activist Short-Sellers Are Wary of Germany. Here's Why
(Bloomberg) -- Want the lowdown on European markets? In your inbox before the open, every day. Sign up here.
The regulatory backlash in Germany against investors who are betting on a decline in the shares of payments processor Wirecard AG shows one reason why bearish speculators avoid publicly criticizing the nation's companies.
The number of activist campaigns by short sellers targeting stocks trading in Germany has lagged behind those in London, New York and Hong Kong over the past five years through 2018, according to data compiled by researcher Activist Insight.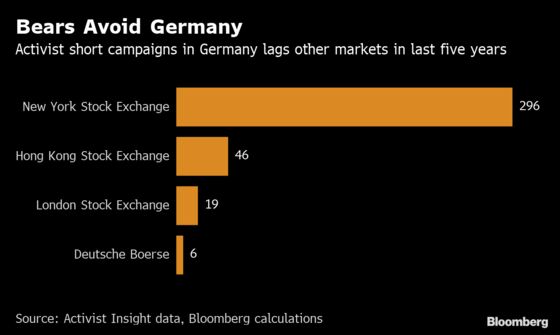 Short sellers know that should they trumpet what they say is evidence of corporate wrongdoing or mismanagement, German authorities are likely to turn their sights on the speculators rather than the company that's the subject of the allegations.
Germany's financial regulator, known as BaFin, prohibited investors from taking new short positions in Wirecard or increasing existing ones through April 18, saying recent price volatility risks undermining the broader stock market. BaFin also is looking into whether trading in the shares has been manipulated, and prosecutors in Munich have begun an investigation into possible market manipulation.
German prosecutors have said they're not investigating the allegations, contained in a series of recent reports in the Financial Times, of fraud at the company's Singapore unit. They don't have jurisdiction over the action in that country and the amount at stake in the fraud allegation wouldn't be big enough to warrant a probe of Wirecard's accounting covered by German rules.
Wirecard has repeatedly denied wrongdoing. The company has been targeted in the past as well by bears, leading to prosecutions of short sellers.
About 15.9 million Wirecard shares were out on loan -- a proxy for short interest -- as of Feb. 14 , representing about 14 percent of the company's free float, according to data compiled by IHS Markit Ltd.