Activision Plunges Most in Decade as Forecast Raises Alarms
(Bloomberg) -- Activision Blizzard Inc. slid as much as 15 percent on Friday, extending a rout that has erased a third of its market value since the start of October.
The latest setback came as the video-game maker's fourth-quarter forecast missed estimates. Some analysts are concerned that the new Call of Duty: Black Ops IV isn't winning enough "player-level engagement" to compete with the likes of Fortnite and Take-Two Interactive Software Inc.'s Red Dead Redemption 2. The shares fell 11 percent at 12:11 p.m. in New York, on track for their biggest loss in a decade.
Take-Two tumbled as much as 8.2 percent in sympathy, while peer Electronic Arts Inc. fell as much as 4.4 percent.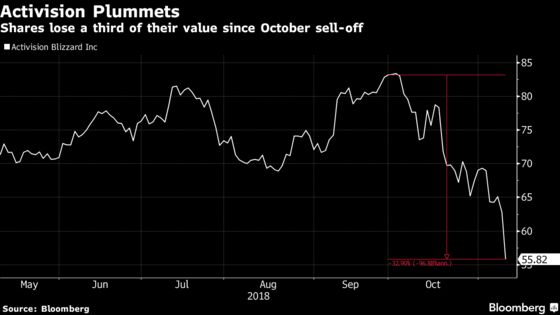 These are the Street takeaways:
"Call underlines the simple fact that Activision has struggled to deliver organic growth for the better part of a decade."
"Blackout battle royale mode hasn't really been a game changer in terms of player-level engagement."
"We worry that recently accelerating R&D spend and disappointing margin performance across the industry is indicative of a zero-sum content arms race that expands costs without expanding revenue."
Maintains market perform rating, price target to Street-low $56 from $66.
Jefferies, Timothy O'Shea
"While there is some FX pressure and softness around Overwatch, we still see significant upside to full year EPS estimates."
Candy Crush Friends is a "potential needle mover" as the new mobile game is #1 in 93 countries.
"ATVI can also easily beat numbers in 4Q when we finally see the positive impact from Call of Duty."'
Growth drivers include more releases, live services, mobile games and new models like eSports and ads.
Rates buy, price target $85 from $90.
MKM Partners, Eric Handler
"Our concerns about Activision's 2019 growth have intensified as it may not only be facing tough release comparisons but it also has to refocus its efforts on integrating more in-game content for multiple franchises in order to revitalize revenue."
"King is likely the only growth segment (~15%), driven by a full year contribution from Candy Crush Friends and the eventual release of the Call of Duty mobile game in China (once the government resumes its approval process)."
Maintains neutral rating, price target $68 from $71.
Piper Jaffray, Michael J. Olson
"While investors are clearly disappointed with Activision's overall results, the irony is that the company's largest franchise, Call of Duty, appears to be performing well."
"Black Ops IV should be a 'gift that keeps on giving' in the coming quarters as strong early unit sales and gamer engagement are a likely sign of good things to come for in-game digital content monetization in CY19."
Maintains overweight rating, price target $74 from $88.