Activision Outshines Rival Take-Two During Holiday Quarter
(Bloomberg) -- Activision Blizzard Inc. outshined rival Take-Two Interactive Software Inc. during the holiday season, a key battleground for the video-game industry.
Take-Two, which makes the Red Dead Redemption and Grand Theft Auto series, stumbled during the December quarter, missing projections for both sales and earnings. Its profit forecast for the current quarter also fell short of Wall Street estimates.
That sent its shares down as much as 11% to $113.30 in New York trading Friday. The stock had been up 4.3% this year through Thursday's close.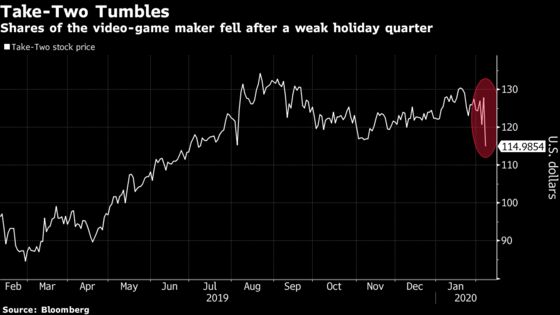 Activision, in contrast, beat revenue and profit projections. Fourth-quarter profit was $1.23 a share, excluding some items, compared with a projection of almost $1.20 a share. Its forecast for the current period was conservative -- coming in below estimates -- but that's not unusual for the video-game giant.
Shares in the Santa Monica, California-based company climbed as much as 3.2% to $62.20 at 10:09 a.m. in New York. Its stock had been up 1.4% so far in 2020.
The holidays typically represent the biggest sales period for the industry, but it can be a struggle to get consumers' attention in a crowded field. Video-game makers are also navigating a transition away from shrink-wrapped blockbuster games toward a world where consumers download the software or play titles free online -- and then pay for in-game extras.
New York-based Take-Two is suffering internal upheaval as well. This week, it announced the departure of Dan Houser, co-founder of Rockstar Games, who provided creative oversight. His exit could potentially slow the development process and delay titles, such as a sequel to its Bully game, according to Michael Pachter, an analyst at Wedbush Securities. Houser's brother Sam remains with the company.
Take-Two Chief Executive Officer Strauss Zelnick said the company wasn't expecting Bully this year anyway.
"We haven't talked about Bully at all," he said in the interview. "We feel great about how Rockstar is doing."
But the company will delay another title -- The Outer Worlds for Nintendo Switch -- until 2021, he said, because of the disruptions caused by the coronavirus epidemic.