Abu Dhabi's Aabar Bonds Plunge on Concern Over Its Finances
(Bloomberg) -- Bonds of Aabar Investments sank the most on record after auditors raised concerns about the financial well-being of the company, the second-largest shareholder of Italian lender UniCredit SpA.
The euro-denominated bonds due in March plummeted 23 cents to 74 cents on Tuesday, after Ernst & Young LLP provided an "adverse opinion" about the company's 2018 finances, "accumulated losses and a deficiency of assets," Aabar said in an Aug. 30 statement.
The company, which has about $6.4 billion of outstanding debt, said it's "considering the resources and options available to it to continue its normal operating activities and meet its financial obligations as they arise."
Aabar Investments is owned by Abu Dhabi government's Mubadala, a sovereign wealth fund that manages assets worth $229 billion. The company currently has a 4.99% stake in Italian lender UniCredit and is the biggest shareholder of Arabtec Holding PJSC, a construction company in the United Arab Emirates. An official from Mubadala declined to comment.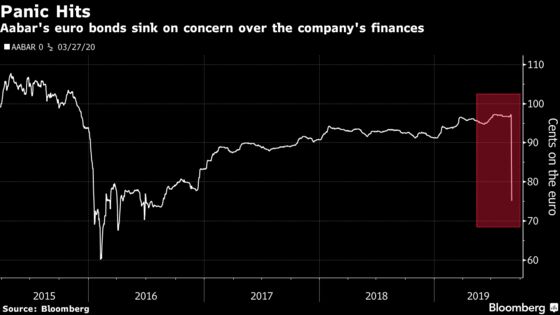 "If you look at the documentation, there is no guarantee from Mubadala and neither is there a cross default between the Aabar bonds and the rest of the Mubadala complex," said Abdul Kadir Hussain, the head of fixed-income asset management at Arqaam Capital Ltd. in Dubai. "There is no direct legal obligation for Mubadala to pay this out, but it is still 99% owned subsidiary of Mubadala and would still be seen as an Abu Dhabi government-related entity."
The yield on Aabar bonds due next year soared to 62%, while the rate on euro notes due in March 2022 climbed to 14%, according to prices compiled by Bloomberg.
More From the Statement
"The auditors were unable to satisfy themselves as to the appropriateness of the use of the going concern basis of accounting for the preparation of the Financial Statements"
"Aabar is so nontransparent that in the end only the sponsors know what is happening there," said Lutz Roehmeyer, the Berlin-based chief investment officer at Capitulum Asset Management GmbH, whose fund holds the bonds. "In normal cases you would expect the sponsor of Aabar to heal the capital gap through equity investments or a guarantee."