Abu Dhabi Offers More Bonds to Stockpile Cash
(Bloomberg) -- Abu Dhabi raised more money from international debt markets just weeks after a $7 billion bond sale as it takes advantage of a drop in borrowing costs to bolster its finances.
The emirate sold an additional $3 billion of its three-tranche deal priced in April, according to people familiar with the matter who asked not to be identified because the matter is private. The yields on those bonds, which garnered about $45 billion in orders last month, declined on Monday to all-time lows as optimism that the worst of the oil crisis triggered by the coronavirus pandemic is over offered relief for energy-related borrowers.
"For Abu Dhabi, pricing was never an issue, they are a solid credit with good sponsorship," said Angad Rajpal, the head of fixed income at Emirates NBD Asset Management in Dubai. "It is a smart call to tap and further shore up their buffers than to draw down on the reserves."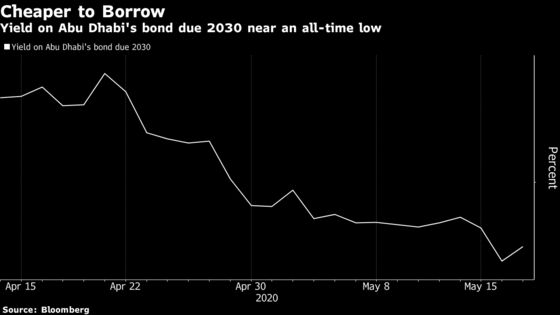 135 basis points over U.S. Treasuries of similar maturity for $1 billion of debt due April 2025
A spread of 150 basis points for $1 billion of bonds due April 2030
For the 30-year bond tap, 3.25%
Abu Dhabi, the wealthiest of the seven emirates that make up the United Arab Emirates, is rated AA by S&P Global Ratings. The cost of insuring Abu Dhabi's debt against default for five years has fallen to about 100 basis points, from a more than 10-year high of 162 basis points in March, when crude prices collapsed.
The slump in oil has put a strain on the finances of Middle Eastern energy producers, prompting Saudi Arabia, Qatar, members of the UAE and Bahrain to sell about $31 billion of bonds this year. Abu Dhabi's Mubadala Investment Co. raised $4 billion last week.
Brent crude has lost almost half its value this year, even after recovering to around $35 a barrel from an 18-year low reached last month.
The need for large stimulus around the world has prompted other countries to issue more debt as well. Indonesia, Spain and Italy are among nations that have recently offered notes, as massive central bank stimulus helps global credit markets rebound from a March rout.
The gradual easing of lockdowns in some economies around the world, together with additional stimulus from governments and central banks, is also buoying investor sentiment, even as many uncertainties remain about the virus and global economy.
BNP Paribas SA, First Abu Dhabi Bank PJSC, JPMorgan Chase & Co. and Standard Chartered Plc are the joint lead managers for the Abu Dhabi sale.