Absa's Ramos Sees Confidence Returning to South African Economy
(Bloomberg) -- Absa Group Ltd. Chief Executive Officer Maria Ramos is betting that South African President Cyril Ramaphosa is on the right track with rebuilding the continent's most-industrialized economy.
Almost a year since taking over from his corruption-tainted predecessor, Ramaphosa started commissions of inquiry to determine how graft became so entrenched and to prevent it in future. He also set in motion plans to reinvigorate economic growth through an investment conference that raised billions in pledges and a jobs summit that pulled together the government, businesses and labor on ways of creating work.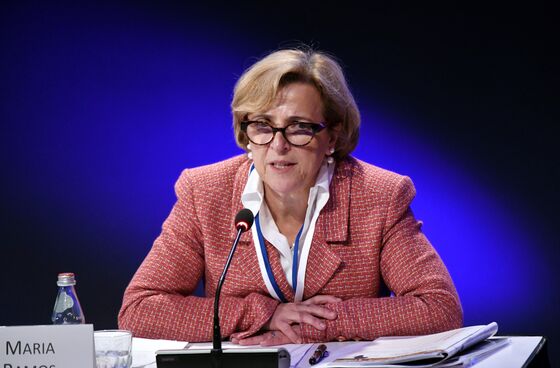 "The things he committed to, he and his cabinet have delivered on," Ramos, who was part of drawing up South Africa's constitution with Ramaphosa before the end of segregated rule in 1994, said in an interview on Friday on the sidelines of the World Economic Forum in Davos. "That's what I expected of him and the way I have come to know him."
Ramaphosa is seeking to lure $100 billion of investments by 2023 to revive an economy struggling to create jobs for the 27 percent of the workforce that's unemployed. Since announcing the investment drive in April, China, the U.K., the U.A.E., Saudi Arabia and Daimler AG's Mercedes-Benz unit have pledged $35.5 billion, with companies promising another $20 billion in October.
"We're starting to see confidence coming back into the economy," Ramos said. And while important commitments have been made on job creation, these still need to implemented, said the CEO, who served as Director-General of Finance under the first democratic administration of Nelson Mandela.
Click here to read about Ramaphosa's plan to create an economy super ministry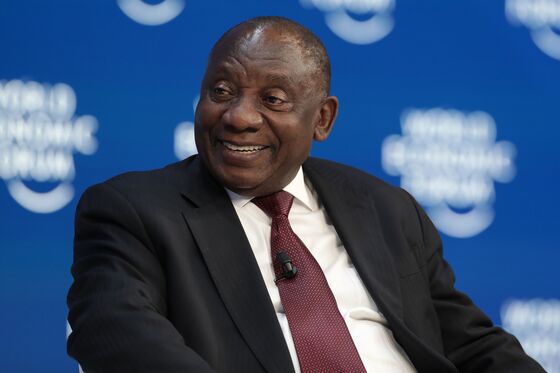 Ramos, 59, said Ramaphosa has an "open invitation" for businesses wanting to engage on economic policy and growth opportunities, such as tourism. The government is also being encouraged to ensure predictability with policy making, the lack of which has hurt South Africa in the past, she said.
"The biggest challenge facing South Africa is to have a strategy and to build confidence around sustainable growth and job creation," she said.
Here are other points from the conversation:
South Africa is an open economy so when China and other major nations "sneeze, we are caught in the middle," with the global economy set "to go through another round of lower growth."
"We're confident that the targets we unveiled and the strategy we set out last year is within reach."
The growth focus remains "on our retail and business bank in South Africa. It's the biggest part of our business."
"We have a corporate and investment bank that has grown strongly and we expect that to continue."
"Then we have great businesses outside South Africa in 10 African markets. There are great opportunities for growth in each of the countries that we're in. We have a small presence in Nigeria but an important presence."
"I made a commitment and when I do something I do it completely and totally and when the time comes to do something else I will think about that."
The South African government "does a lot better on gender representivity and inclusiveness than the private sector."
Absa tries to be strategic about equality. "It's about making sure that all the way from recruitment to career development to promotion that we create the awareness," even though not enough women are breaking through to senior roles.
"In South Africa, the problem is often one of gender and one of race. It's an ongoing challenge and one that requires an ongoing and deliberate focus."