Dispute With Board Sees Absa Bank CEO Depart After 16 Months
(Bloomberg) -- Absa Group Ltd. Chief Executive Officer Daniel Mminele is leaving South Africa's third-largest bank after a dispute over strategy, ending a 16-month tenure just as the lender looked to bounce back from the Covid-19 crisis.
The board and CEO differed on a range of matters including "structure, operating model, priorities -- and how you go about implementing them," Chairman Wendy Lucas-Bull said in an interview on Tuesday. "It's a lack of ability to get onto the same page."
Financial Director Jason Quinn will step into the top job on an interim basis, becoming the bank's fourth leader in less than three years, Absa said in an earlier statement.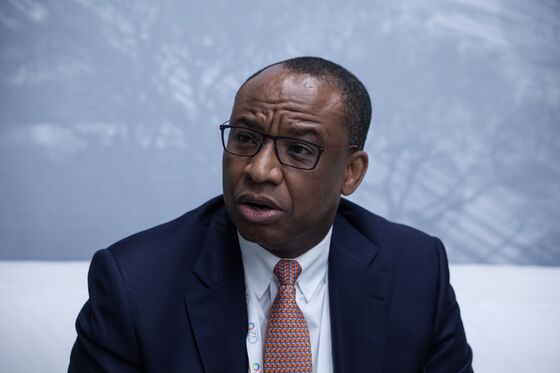 The shares traded 4.2% lower at the close in Johannesburg, valuing the group at 102 billion rand ($7.1 billion).
The schism creates a leadership headache for Absa and comes less than two months after Deputy CEO Peter Matlare died from Covid-19 related complications. Mminele is also the company's first Black CEO and only the third Black person to take the helm of one of the country's four biggest banks, and his departure is a setback to the industry's push to diversify leadership.
Standard Bank Group Ltd. CEO Sim Tshabalala remains in place, though Basani Maluleke, who was also the first Black woman to lead a major lender in South Africa, quit as African Bank Holdings Ltd. CEO in January. And Old Mutual Ltd. fired head Peter Moyo in 2019 in a dispute that ended up in court.
"It is indeed regrettable that we should have had to part ways so soon on our journey," Miminele, 56, said in a statement provided by Absa. "It is, however, important for the CEO to be in complete alignment with the board on critical issues such as strategy and culture."
Mminele joined in January 2020, after leaving the central bank where he served two five-year terms as deputy governor.
What Bloomberg Intelligence Says:
CEO Daniel Mminele's imminent departure is a blow to Absa, coming just as momentum was returning, with lending up 2% (corporate) to 4% (retail) in its core South African operations. Rationale for the exit -- not yet confirmed -- may focus on group strategy after expansion plans in the higher-growth sub-Saharan region were delayed by the pandemic.

-- Philip Richards, BI banking analyst

Click here for full report
Absa began a strategic revamp in 2018 under long-term CEO Maria Ramos to reclaim market share in its home market alongside a split from former U.K. parent Barclays Plc. Ramos left the following year, with Mminele joining almost 12 months later. The overhaul also saw the bank expand its base in the rest of the African continent across retail, corporate and investment banking operations.
"We thought we had the right candidate last time and we did do a rigorous process," Lucas-Bull said. "We will take some lessons learned as a board."
After joining Absa, Mminele began reviewing the bank's strategy, while contending with the fallout from the Covid-19 pandemic. The company this month closed a $6 billion money-market mutual fund, South Africa's largest, reviving speculation the bank may look to sell its wider asset-management unit.
Absa is also yet to resume dividends after a regulator-encouraged pause following the start of the pandemic, setting it apart from most of its South African rivals. Headline earnings fell 51% last year, with the biggest impact coming in the form of provisions to manage loans.