ABN Amro Sends Test Group to Prepare for Head Office Reopening
(Bloomberg) -- ABN Amro Group NV is testing how to re-open its Amsterdam headquarters under strict safety guidelines with a test group of employees, the latest bank to consider return to work scenarios as the coronavirus pandemic recedes in Europe.
The pilot group consists of about 40 bankers from the markets and treasury department that work in the headquarter's dealing room and 20 security operations employees who are based in another building in Amsterdam. They began returning to work this month, according to bank officials.
Multiple global banks announced in recent weeks to gradually ease home-working policies. Barclays Plc will begin returning about 700 staff to offices in the U.K., U.S. and India starting in July. ING Groep NV said that roughly a thousand people have returned to its offices last month in about 20 countries.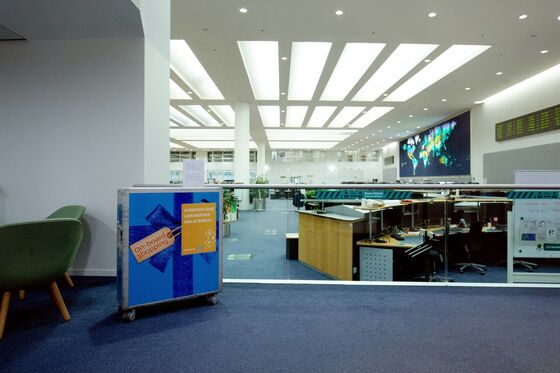 ABN Amro is ready to open its head office from the first of July in different phases for more people if the initial trials work well, crisis team manager John Forcelledo said in a phone interview. "We started preparations so we can return partially back to the office when the government announces more flexible guidelines," he said.
Dutch prime minister Mark Rutte said in May that people should work from home as much as possible until further announcements. At the same time, he signaled that this advice will probably change after the summer.
ABN Amro has taken measures in the building to minimize the chance of employees infecting each other. Arrows on the floor guide people into certain walking lanes and sanitizers are placed at every group of desks.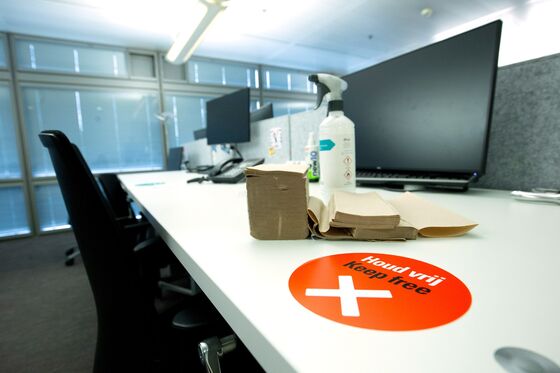 In order to keep 1.5 meter distance from each other, about two thirds of the desks have a red sticker where employees are not allowed to sit. Lunch can't be consumed at the canteen but will be delivered to the desks, or near the desks.
"We expect the 1.5 meter rule to be here for a while, meaning that we can only use 40% of total desks in the office for at least some months, but probably longer," said Forcelledo.
The bank decided to include investment bankers in the pilot group because their work is not so easily done from home and productivity is higher in the office, according to Forcelledo.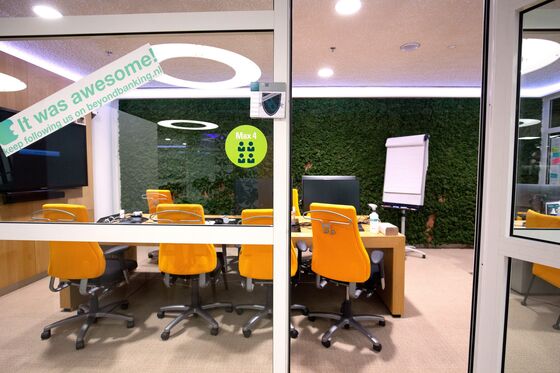 "Think for example about executing a bond issuance. We see that this market is picking up again. With such deals, it's important to minimize the risk of unwanted interruptions like dogs barking in the background or a failing internet connection," Forcelledo said.
The lender also designated special rooms with enough ventilation where bankers from the pilot group can sporadically meet clients. The maximum number of people is indicated. The advice is to have as few people as possible in these meetings.