ABN Amro Beats Profit Estimates, Cites Share Buyback Talks
ABN Amro Bank NV reported third-quarter profit that beat estimates as the Dutch lender released money it had stashed for doubtful loans and said it's in talks with its regulator about buying back stock.
The bank, based in Amsterdam, saw net income jump 14% from a year earlier to 343 million euros ($397 million). That was higher than the 261 million-euro average estimate of analysts surveyed by Bloomberg.
Banks are taking a rosier view of the creditworthiness of borrowers as pandemic-struck economies reopen after massive government support helped clients through the lockdowns. That's left ABN Amro and fellow lenders in the delicate position of boosting shareholder payouts without drawing the ire of the European Central Bank, which eased lender conditions during the health crisis.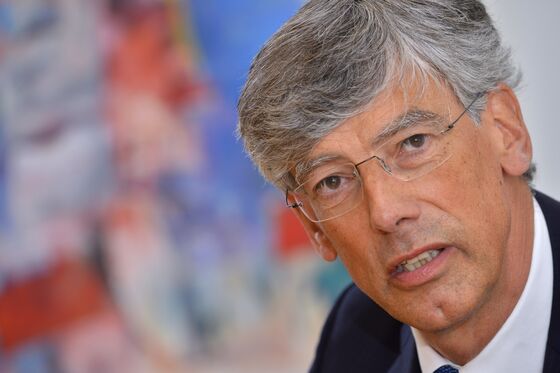 The shares gained as much as 4.1% and were trading up 0.5% at 12.80 euros as of 10:26 a.m. They have gained 60% this year, outperforming the 37-member Stoxx 600 Banks Index.
The bank is delivering "solid progress overall," though this quarter's beat is "less than meets the eye," according to analysts at Citigroup Inc. They cited the fact that it is based on "volatile" results from ABN Amro's group functions unit and the release of loan provisions.
The bank released 12 million euros of reserves for doubtful loans given what it termed the "benign" environment for credit, after stashing 270 million euros in the year earlier period. The bank also said the full year outlook improved, with provisions set to drop to about zero. 
The ECB's top supervisory official, Andrea Enria, warned banks this month not to "jump the gun in terms of releasing provisions and create profitability now that they could regret later."
ABN Amro said it has retained 380 million euros of reserves that function as a "management overlay" to reflect uncertainty after government support measures ended.  
The bank, which has one of the highest financial strength levels among European lenders, said it is "in a constructive dialogue" with its regulator on returning funds to investors via share buybacks after it reports 2021 results next year.
The results signal that "the lender is finally on a path to recovery and poised for estimate upgrades," said Philip Richards, a banking analyst at Bloomberg Intelligence. "A return to loan growth at the corporate bank and a lowered threshold for charging negative rates on deposits should ensure the recovery is sustainable."
Dutch banks have seen their reputation suffer after bailouts in the financial crisis and a series of scandals in subsequent years. ABN Amro suffered a setback this year in repairing its image after it was found to not have sufficiently followed market rates when setting interest for revolving consumer loans with floating rates. The bank took a 217 million-euro charge to compensate clients in the quarter.
That weighed on lending revenue, which fell 18% from a year earlier to 1.2 billion euros. The bank said it remains "optimistic" that it will meet a threshold which would allow it to qualify for a subsidy the ECB offers banks to increase credit supply. 
ABN Amro Chief Executive Officer Robert Swaak is also winding down large parts of its investment bank activities to focus on retail and commercial banking. The bank's earnings in the prior-year quarter were hit by 153 million euros of overhaul charges, mainly from the investment bank.