Aberdeen Standard's Athey Exits Pound Bet Amid Brexit Turmoil
(Bloomberg) -- Aberdeen Standard Investments has exited a bet on the pound against the dollar as the U.K. currency plunged amid ministerial resignations in opposition to Prime Minister Theresa May's Brexit deal.
Money manager James Athey instigated a long sterling position last week on hopes for a divorce agreement between the U.K. and the European Union, but that all changed earlier Thursday. He said last week he saw the pound climbing to $1.50 in the three months following a deal. Now, the picture looks much murkier.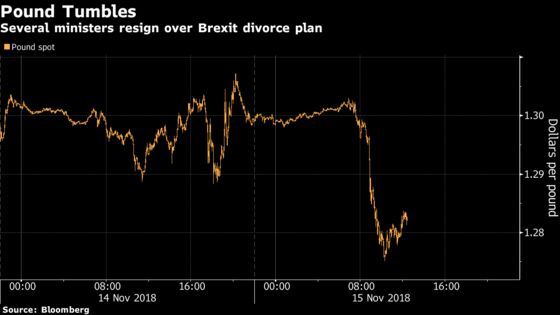 "The most market-moving risk is essentially a political or constitutional crisis, which raises the possibility of a disorderly exit without a deal," said Athey. While this isn't the most likely outcome, he said he was "struggling to conjure up a high conviction view of the near-term path, the strategy of the Euroskeptics, or indeed the likelihood of May falling, or a new referendum."
Athey said he maintains a long on sterling against the euro, but said he opted to reduce his risk by exiting the pound-dollar position. The U.K. currency fell 1.7 percent to $1.2777 as of 12:57 p.m. in London, after touching $1.2751, the lowest since Oct. 31.