A Third of U.K. Workers Deemed Vital and Many at Risk From Virus
One in three U.K. workers are in jobs deemed vital during the coronavirus lockdown, and many of them are at heightened risk of contracting the disease.
The Office for National Statistics said Friday there were 10.6 million so-called key workers last year and 15% of them are at moderate risk from Covid-19 because of a health condition such as asthma, heart disease and diabetes.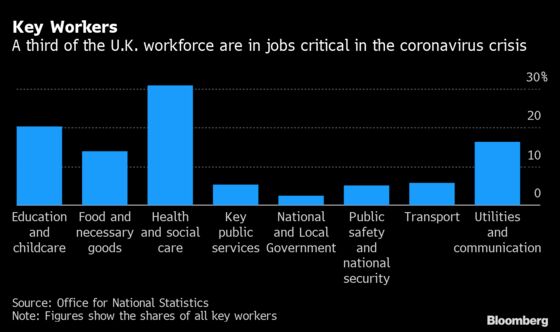 The findings are likely to renew calls to improve pay and conditions for those on the front line in the battle against the pandemic, who in general earn less than employees in other occupations. The Institute for Fiscal Studies calculates that a third of key workers get less than the target rate for the national minimum wage.
According to the ONS, the food industry and health and social care had the highest proportion of key workers in the lowest income bracket. In the former, 9% earned less than 146.26 per week ($178.70).
Over 30% of key workers were employed in health and social care, most of them women. A similar proportion had children age between five and 15.