A Tale of Two Gulf Bond Markets Lays Bare Rifts That Run Deep
(Bloomberg) -- Nations in the Gulf are attracting billions of dollars of inflows into their bond markets this year, but beneath the bonanza lies a geopolitical rift that sets the haves and have-nots of the region apart.
Qatar sold a three-part dollar bond offering on Wednesday, a day after Oman was downgraded to junk by Moody's Investors Service. Speculation is growing that the cash-strapped country will need a bailout package from its neighbors, similar to the deal that buoyed Bahrain's finances last year.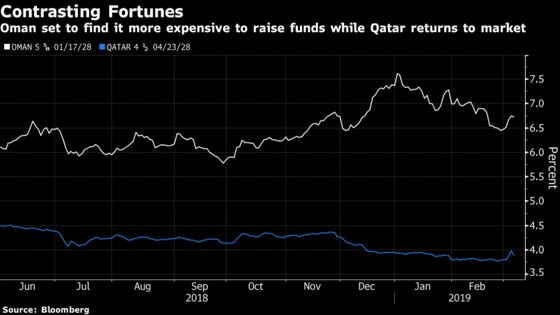 But unlike Bahrain, which has a close relationship with Saudi Arabia, Oman's independent foreign policy has left it without support in the region. And neither does Oman have Qatar's deep pockets or gas resources that allowed the nation to skirt a Saudi-led standoff, raised less $24 billion in less than a year and put it on track to post a budget surplus.
The Moody's downgrade to junk isn't Oman's first. The one that really hurt was Fitch Ratings' cut in December, because, coupled with the nation's BB rating by S&P Global Ratings, Omani bonds no longer met some investors' criteria for investment-grade debt. And since the securities are already in JPMorgan Chase & Co.'s emerging-market indexes, they missed out on the excitement over the inclusion of other Gulf nations in the gauges.
A senior government official has since said the nation plans to slash its borrowing requirements for the year.
"Oman is the one GCC name that doesn't benefit from index inclusion. The technicals are the opposite," said Edwin Gutierrez, a London-based money manager at Aberdeen Standard Investments. And given the downgrade to junk, there are "forced sellers rather than forced buyers."