A Push to Save Fed Credit Line That Rescued Muni-Bond Market
(Bloomberg) -- The Federal Reserve's first intervention in America's municipal-bond market is poised to end as it began: with pleas from states and cities to unleash the hundreds of billions of dollars it's sitting on.
Just two borrowers -- Illinois and New York's Metropolitan Transportation Authority -- have drawn on the central bank's municipal lending program since it was announced in April, after a panicked stampede out of the bond market raised the risk that pandemic-hit governments would be unable to raise needed cash.
The interest penalties the Fed charged virtually ensured that few loans would be made as long as the market was functioning, leading some local officials to call for the rates to be cut. Yet the promise alone that the central bank was standing by to prevent another liquidity crisis was enough to send short-term interest rates in the market to almost zero, raising the risk that conditions could reverse if it's not kept in place beyond its planned expiration at the end of December.
"I would hate for President-elect Biden to have to start all over," said U.S. Representative Emanuel Cleaver, a Democrat from Missouri, who says the lending program should be extended. "We can begin to start with this problem right now."
The current calm in the municipal-bond market belies the financial pressure on governments as another wave of the pandemic drives infections to new highs. With the resulting economic slowdown weighing on government tax collections, House Democrats sought to extend them aid in a proposed $2.2 trillion economic stimulus bill, though talks with Senate Republicans have made little headway since President Donald Trump's electoral defeat.
The failure to extend such aid may reinforce the case for keeping the Fed program in place. Citigroup Inc. municipal strategist Vikram Rai said that lending program should be extended to the end of 2021, noting in a report that municipal-debt prices can cheapen "quite irrationally" at times when investors pull back and that the Fed provides a cap on yields.
"If it's not extended, we could see some weakness in the market," he said in an interview.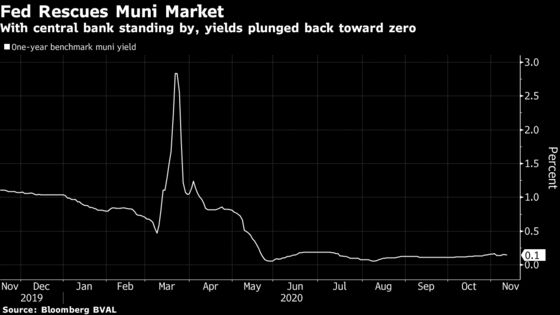 Keeping it in place would require overcoming opposition from Republicans, some of whom have criticized the Democrats' efforts to extend aid to local governments. Trump's Treasury Department, which has reviewed amendments to the lending program, has also been opposed, according to information it provided last month to the Congressional Oversight Commission.
"There are many strong reasons that these programs should not be extended past year end," said Pat Toomey, a Republican Senator who sits on the commission overseeing the Fed's lending programs. "They were always intended just to serve that very discrete purpose of restoring functionality to our market. They were never meant to be a permanent tool in the toolbox of the Fed."
The central bank and Treasury Department will decide together whether to extend the emergency lending facilities beyond the end of the year, Federal Reserve Vice Chairman Richard Clarida said in online discussion hosted by the Brookings Institution on Monday.
Delaware State Treasurer Colleen Davis said rolling it back would be premature. She said it's important to keep the Fed's credit line alive as Covid-19 cases spike. The state is expecting its finances to worsen next year, and there's typically a lag before state and local tax collections reflect economic downturns.
"It's very clear that we're not out of the woods," she said.
State and local governments have lobbied consistently since April for the Fed to loosen the reins of the program, with mixed success. In response to early feedback, the Fed increased the number of borrowers who were qualified to access it and in August cut the penalties it charged on loans. It also kept it in operation after its first scheduled end in September.
But market rates have remained significantly cheaper, with top-rated governments able to sell 3-month tax-exempt notes for yields of as little as 0.05% in August, according to Bloomberg's benchmarks. The rates are only slightly higher now, holding around 0.13%.
As a result, governments are borrowing in the public market instead. Only Illinois, which is at risk of having its credit rating cut to junk, and New York's Metropolitan Transportation Authority, the subway operator that's dealing with a steep drop in revenue, have faced large enough penalties in the market to make it worthwhile to tap the Fed, according to central bank data posted this month.
That may not always remain the case. Suffolk County, New York Comptroller John M. Kennedy, a Republican, said his county is counting on the Fed as a potential buyer if it faces higher yields in the market when it moves to sell $100 million of debt this week.
He's lobbying members of Congress, including Senator Chuck Schumer, the Senate Democratic leader, to keep the facility up and running into next year as officials try to plan for the financial impact of the pandemic.
"Municipal budgets are made on what's known, not on what might happen," he said.