A Few Gamblers Locked In 96-1 Odds on Top Kentucky Derby Horse
(Bloomberg) -- For the past couple decades, Churchill Downs has been offering futures wagering on the Kentucky Derby. It's largely a PR thing, a (mildly successful) bid by racetrack officials to gin up some interest in America's marquee horse race during the cold, dark winter months.
What's always struck me is how awful so many of these futures wagers are. Who the heck, for instance, is locking in odds of 10-1 on Instagrand in late November, some five months ahead of the race? Or 7-1 on Hidden Scroll in February? Or 12-1 on Bourbon War in March?
None of those horses will even be in the starting gate on Saturday. And of those in the futures pools that do make it in, the actual odds they offer on race day often turn out to be pretty similar to the ones that bettors got months in advance. Last year's top two-year-old colt Game Winner, for example, was 5-1 in November, 5-1 in February, 6-1 in March and 7-1 in April. On Saturday, the horse figures to pay odds of 5-1 to anybody who just strolls up to the betting window. So it's often hard to see why it's worth all the risk.
Of course, there are exceptions every year, cases where gamblers manage to lock in fat odds on a horse or two whose stock subsequently soars. This year's Exhibit A in that category is an eye-popping one: When the last bet came in for the February futures pool, a little-known, gray colt by the name of Tacitus was flashing odds of 96-1.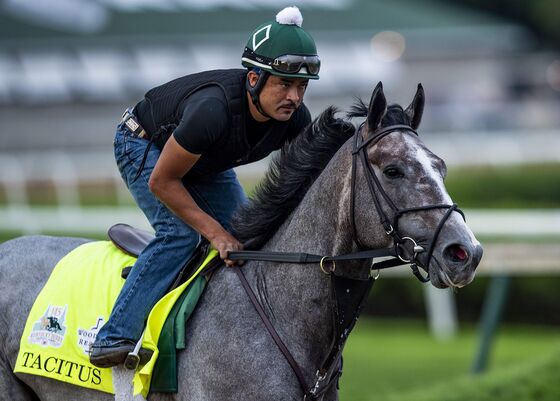 That price seemed reasonable enough. Sure, the colt has a terrific pedigree and is a grand-looking thing but as of that point, he had achieved precious little on the track.
Four weeks later, he wins the Tampa Bay Derby. Four weeks after that, he takes down the Wood Memorial in New York. And then the colt arrives in Louisville, prancing like a war horse and turning clockers' heads, and all of a sudden he is the talk of the town. On Saturday, he figures to be one of the top four favorites and will probably go off at odds of 8-1 or so.
For those market types who want to understand these numbers in price-gain terms, the value of the futures win ticket has essentially appreciated 1,100 percent over the past three months. Not a bad little markup. And for those who, like me, are feeling a little -- or a lot -- jealous, don't fret too much. It was a very, very small universe of people who got those 96-1 odds. Only $3,392 was bet on Tacitus back in February.
(David Papadopoulos, a senior editor at Bloomberg News, is a voter in the thoroughbred industry's annual Eclipse Awards. His Kentucky Derby selections column will be published on Friday.)