A Brief Guide to the World's First Sustainability Re-Linked Bond
(Bloomberg) -- It's the first of its kind: a bond linked to the ethical targets of a pool of its existing loans to various companies. 
The $300 million so-called re-linked notes were sold by the Bank of China Ltd.'s London branch last month. The three-year coupon is subject to the environmental, social and governance terms of five loans in its second and third year -- from companies located in the U.S., U.K., Hong Kong and Singapore, according to the bond's documentation. 
The coupon also has a step down clause, which is unheard of. That means bondholders will lose money if loan borrowers tied to the debt manage to exceed their sustainability targets.
"The change in the bond coupon depends on the completion of ESG targets of underlying sustainability-linked loans," Zhou Quan, Bank of China's general manager for asset and liability management, said in an interview on Friday.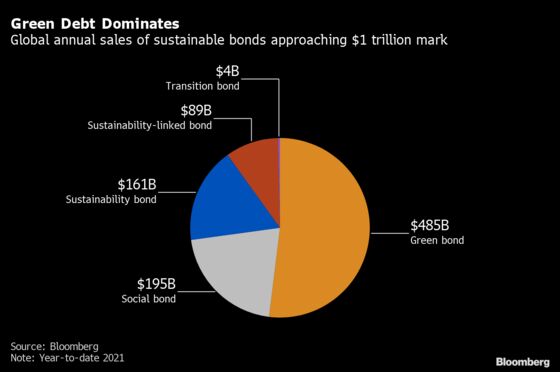 The structure is yet another first in a bewildering array of different types of ethical debt for investors, as the sector evolves to cater for the trillions of dollars seeking environmental, social and governance assets. Global ESG bond sales are approaching the $1 trillion mark this year, almost double the $493 billion for the whole of 2020, according to data compiled by Bloomberg. 
While Europe has led the way, sustainability-linked debt in Asia and the Americas has also taken off. These types of facilities have faced skepticism because of the overly soft targets that some companies have set, and for a lack of transparency in loan terms that lead to fears of greenwashing.
This latest Bank of China structure is aimed at broadening the spectrum of tools that issuers may use, in addition to green bonds and sustainability-linked bonds, to achieve ESG impact, said Jaclyn Yeap, a partner at Allen & Overy, who worked on the deal.
It's unclear if other issuers will follow and issue similar deals. Below are more details of the offering:
The bank's underlying sustainability-linked loans involved:

Industries including travel, fund management, trade, manufacturing and storage
ESG targets for greenhouse gas emissions and ESG scores
ESG pricing adjustments of up to five basis points

The underlying SLL portfolio - all syndicated and coming from international branches of BOC - may adjust within the bond period, according to Zhou. At the time of bond issuance, the total tally of the loans was greater than the size of the bond, exceeding $500 million, he said
The bond was priced 32 basis points above U.S. Treasuries, or about 43 basis points inside initial marketing
Investor demand reached $700 million -- or 2.3 times the deal size -- during marketing, according to a person familiar with the matter

Over 90% of the demand came from bank investors in the Asia-Pacific region, followed by EMEA, Zhou said