A Bear Market Is Already Here for Most Major Global Stocks
(Bloomberg) -- The majority of the biggest global stocks, as well as many indexes, are already in bear-market territory.
Of companies in the MSCI World Index -- a gauge of developed-market firms -- 52 percent are down by more than 20 percent from their 52-week high, according to Societe Generale global head of quantitative strategy Andrew Lapthorne.
The MSCI World gauge fell as much as 1 percent Monday, with the drop worsening after the start of the U.S. session. The S&P 500 was off as much as 0.9 percent.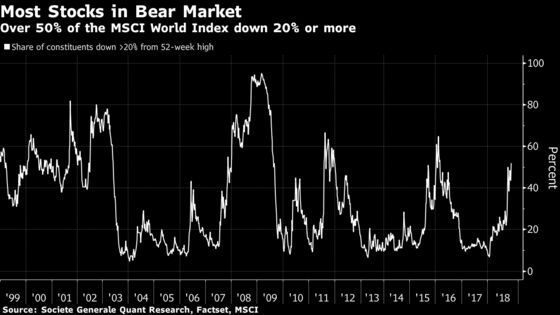 If it's anything like the two most recent experiences -- the 2011 and 2015-16 retreats -- the share of constituents off at least 20 percent from their annual high may be poised to swell to two-thirds.
"For a while now equity investors have been concerned about a whole gamut of macro issues; it was just the U.S. equity market ignoring them until now," he wrote in a note on Monday.
To be sure, the strategist observed that this group only accounts for 38 percent of the benchmark by market capitalization.
Emerging market indexes, meanwhile, are already well into bear-market territory.