A $330 Million Phillies Deal With Harper Would Break Record
(Bloomberg) -- The Philadelphia Phillies are poised to award the richest contract in U.S. team-sports history to Washington Nationals slugger Bryce Harper.
The Major League Baseball team is finalizing a 13-year, $330 million deal with the outfielder, who became a free agent after last season, according to ESPN, which cited unidentified league sources.
That contract would vault Harper past Manny Machado's 10-year, $300 million deal with the Padres and Giancarlo Stanton's 13-year, $325 million extension with the Marlins in 2014, ESPN said.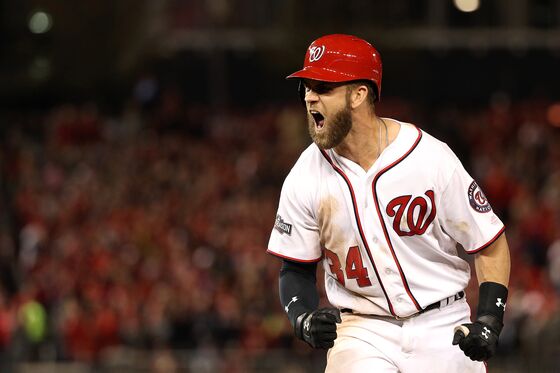 Phillies owner John Middleton said after the season that the team would be willing to be "stupid" with its money in pursuit of Harper.
Still, on a per-year basis -- roughly $25 million -- Harper wouldn't be near a record. Arizona Diamondbacks pitcher Zack Greinke will be paid $34.5 million in 2019.
And Harper's total package isn't the high-water mark for sports. Last year, streaming startup DAZN signed Mexican boxing star Canelo Alvarez to an 11-fight deal worth $365 million. That was the richest single-athlete contract ever.
Harper's contract has a no-trade clause and lacks opt-outs, ESPN reported, suggesting that he plans to finish his career in Philadelphia. Harper is 26 now, so the contract would last until he was nearly 40.
Unlike the National Basketball Association, National Hockey League or National Football League, baseball has no salary cap. That generally leads to longer, and richer contracts. The percentage of MLB revenue that goes to players is typically between 54 percent and 58 percent, the highest of the major U.S. leagues.