A $25 Billion CLO Manager Is Set to Shake Up Pricing in Europe
(Bloomberg) -- Credit Suisse Group AG's asset management arm is looking to sell the top-rated tranche of a new European CLO to a group of buyers instead of placing the bonds with an anchor investor, and the deal could disrupt the pricing status quo.
CSAM, with at least $25 billion in CLO assets under management, has the potential to set a new precedent for other syndicated transactions to follow. That would call into question the rigid pricing expectations that have helped keep spreads wide on European CLO triple-A notes, even during this year's broad credit rally.
The 405.5 million euro ($453 million) transaction, Madison Park Euro Funding XIV, is being arranged by Credit Suisse with pricing targeted for the middle of this month, according to a person familiar with the matter. A spokesman for the Swiss lender declined to comment on the financing.
The knock-on effects of the deal could also reduce the CLO market's heavy reliance on one powerful investor, Japan's Norinchukin Bank, and lead to a healthier primary market where pricing is more open to negotiation, managers say.
Europe's CLO market has bifurcated between managers who are on the approved list for Japan's anchor investors, and those who are not.
Managers on the list benefit from guaranteed funds at cheaper pricing on the AAA-rated tranche. In return they have to accept conservative terms that favor debt investors, and bespoke restrictions on how they invest.
Some of them are finding out that the restrictions are too onerous to allow them to manage their deals effectively. That in turn could reduce returns for their equity investors, offsetting the upside of tighter triple-A pricing.
Those not on the list, who syndicate their top-rated notes to a mixed group of buyers, are more susceptible to swings in supply and demand. These managers have typically paid more for their triple-A notes than the anchored deals, by about 5 to 6 basis points.
This somewhat artificial dual-track market has held European triple-A pricing dynamics almost static since the start of the year: anchored deals have priced at 108 to 108.5 basis points over Euribor while syndicated have ranged between 114 and 117 basis points, according to data compiled by Bloomberg.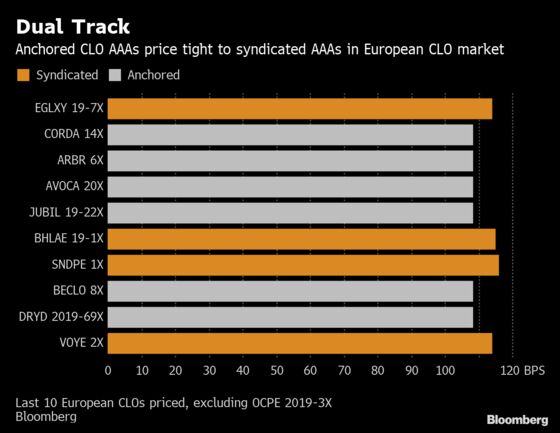 CSAM's deal could be a chance for the broader base of investors to buy paper from a manager that has previously been unavailable to them. It could also change the status quo if the deal prices at a competitive rate, and if this is then used as a base for the next deal to market off. Arranger Credit Suisse is guiding the top-rated notes at 110 to 112 basis points.
That comparatively tight level could be especially appealing for CSAM and other managers when combined with the other attractions of the syndicated route.
For one thing, managers of syndicated deals aren't tied to a specific timetable for pricing. More importantly, they may be able to secure more equity-friendly documentation with fewer restrictions, for example around how many covenant-lite loans they are allowed to hold in the collateral pool. This greater freedom could ultimately feed through to better equity returns.
(Sarah Husband is a leveraged finance strategist who writes for Bloomberg. The observations she makes are her own and are not intended as investment advice.)
Read More

Spire Sets Benchmark for Syndicated CLO AAAs; ICG Next
Trio of CLOs to Price as Window Closes on Tight Anchor Prints
CLO Markets Await Japanese Buyers to Restart Primary Supply