3G's Billionaire Trio Doubles Down on Four-Decade Retail Bet
(Bloomberg) -- Billionaire Jorge Paulo Lemann orchestrated some of the biggest consumer-product deals of all time. For his next move, he's going back to the retailer that started it all.
The trio behind 3G Capital Partners Ltd. -- Lemann and his longtime business partners, Marcel Telles and Carlos Alberto Sicupira -- have agreed to pour more money into Lojas Americanas SA, the Brazilian retailer they bought in 1982.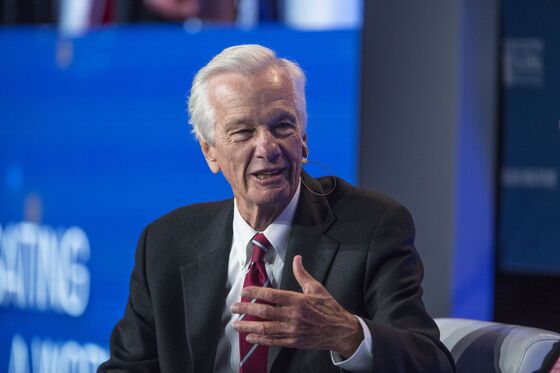 Lemann, Telles and Sicupira own a 40% stake in Lojas Americanas through several investment vehicles, according to regulatory filings. The retailer is seeking money to invest in online systems to better serve consumers stuck at home because of pandemic-related lockdowns. It's hoping to raise as much as 8 billion reais ($1.5 billion) in an equity sale, with Lemann and his partners agreeing to take a piece of the transaction.
At current levels, they'd invest around 2 billion reais, but the final sum will depend on the results of a process to set prices that ends Tuesday.
Lemann is the world's 60th richest person, with a net worth of $18.4 billion, according to the Bloomberg Billionaires Index. But he's taken some hits to his retail empire in recent years. The merger that created Kraft Heinz Co. has stumbled, with even the billionaire admitting that the "big dream" he had for the company was over. 3G's management style, based more on cost-cutting than brand-building, hasn't worked for the U.S. food giant.
Lojas Americanas has also had its share of problems in recent years. The firm owns a 61.4% stake in e-commerce firm B2W Cia. Digital, which has struggled to turn a profit and compete with rivals Magazine Luiza SA and Via Varejo SA. Even so, investors have been scooping up its shares, betting it can pull off a turnaround. B2W is up 92% this year, the best-performing stock on Brazil's Ibovespa index.
Lojas Americanas said it may inject as much as 3 billion reais into B2W after its own equity sale, according to the prospectus. Lojas Americanas will initially sell 80 million voting and 100 million preferred shares, with the possibility of an over-allotment of as much as 28 million voting and 35 million preferred shares.
Lemann and the firm's other controlling investors committed to buying at least 65.7 million voting shares, the filings show. It's a similar structure to a 2017 transaction that also had Lemann investing in Lojas Americanas and, indirectly, in B2W.
Proceeds from the Lojas Americanas share sale "would pave the way for potential opportunities of strategic acquisitions for both companies," Pedro Fagundes, an analyst at XP Investimentos, wrote in a note last week.
The firms running the equity offering are Banco BTG Pactual SA, Bank of America Corp., Banco Itau BBA SA, Banco Bradesco BBI SA, Banco Santander Brasil SA, Banco Safra SA, Goldman Sachs Group Inc. and Morgan Stanley.