BlackRock's Lord Says Asset Managers Fixing Gender Imbalance
(Bloomberg) -- Asset managers in the U.K. remain laggards in getting enough women into investment management roles even as they correct gender imbalances at the top leadership level, according to BlackRock Inc.'s Rachel Lord.
"In terms of senior visible executives, I actually think the asset management industry is doing quite well," Lord, who's head of Europe, Middle East and Africa at BlackRock, said during a panel discussion at the Bloomberg Equality Summit in London on Thursday. "Now what hasn't changed, unfortunately, is we still don't have enough visible portfolio managers and investors."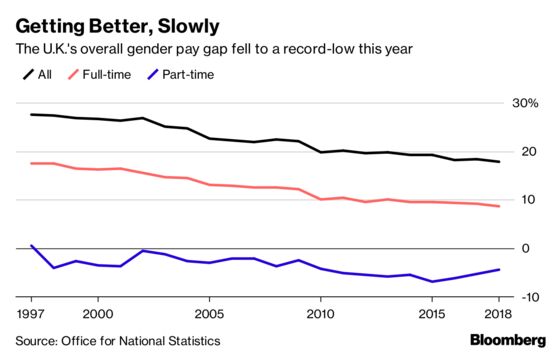 Investors are almost all "male, white, British," she said at the summit held at Bloomberg's European headquarters. "The argument around that, of course, is that in order to be a great investor it probably takes 20 years and, therefore, the hiring decisions that were made 20 years ago, you're still living with them today."
Ana Botin, who heads Spain's Banco Santander SA said the bank is grappling with how to promote more female executives. She cited applicants for internal job postings at her bank. Typically, she said, men would put themselves forward for positions when they fulfill about 60 percent of the requirements, whereas women usually only did so when they met all of them. "Women tend to believe they're not good enough for the roles," she said.
Lord also backed the public disclosure of gender pay-gap data, however raw it is, because the initiative puts pressure on management and provides clues to smaller firms on how to correct the imbalance, she said.
Santander faces a gender pay gap of 30% due to a lack of women in senior roles. When it comes to increasing diversity, she sees merit in quotas -- but remains unsure if they should be introduced. Santander has pledged to increase the share of women in management to 30% by 2025, she says.
"We need to have diversity of gender, race, but also background," said Botin, who pointed out that her bank offered both men and women equal parental leave and flexible schedules.
Men continue to earn more than women across every occupation in the U.K., although the pay gap shrank to the lowest on record last year. Women's pay was 17.9% lower than male peers on average, down from 18.6% in 2017, according to the Office for National Statistics data released in October. For full-time workers, the gap was far lower at 8.6%, reflecting the fact that more women work part-time jobs, which are lower paid.