Banxico Unanimously Keeps Rate Steady as Inflation Quickens
(Bloomberg) -- Go inside the global economy with Stephanie Flanders in her new podcast, Stephanomics. Subscribe via Pocket Cast or iTunes.
Mexico's central bank voted unanimously to keep its key interest rate at the highest in a decade after inflation exceeded the target range.
Banco de Mexico, led by Governor Alejandro Diaz de Leon, left borrowing costs at 8.25%, in line with the forecasts of all 23 economists surveyed by Bloomberg. Inflation risks remain to the upside and the central bank will keep a prudent monetary stance, according to the statement following the decision.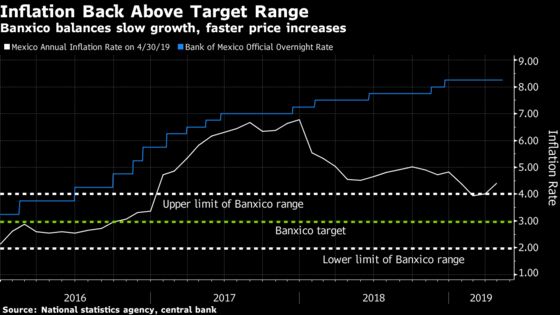 The central bank has kept rates steady since a three-year hiking cycle ended in December, even as the economy unexpectedly contracted in the first quarter. The decision comes after prices rose more than expected in early April. In its decision Thursday, the central bank raised concern that inflation could remain high despite a slowing economy, leading Barclays Plc to view the statement as slightly more hawkish than the previous one.
"The bias could be to a rate hike, not a cut, if we continue to see an increase in core inflation," said Marco Oviedo, chief Latin America economist at Barclays. "The board is trying to make clear that inflation is their main concern and that even if growth decelerates, that should not be sufficient to consider cuts in a context of high inflation."
Inflation accelerated to 4.4% last month, above the 4% upper end of the bank's target range.
Risks include "the possibility that the growing slack doesn't translate into lower pressures on inflation because of the elements that have pressured core inflation to the upside," according to the central bank statement.
Mexico's real interest rate, which is adjusted for inflation, currently stands near 4% -- one of the highest in emerging markets, and a potential source of concern for President Andres Manuel Lopez Obrador.
"There's a possibility that the relationship between members of Banxico's board and the president will become more rocky," Citibanamex economist Adrian de la Garza said before the decision. "Above all there's a chance that the new government will want to blame low growth on these monetary policy decisions."
In the minutes of the previous monetary policy meeting, Banxico board member Gerardo Esquivel said he disapproved of the hawkish tone of the decision, even as he voted with the rest of the members to keep rates steady. This led to speculation he may vote for a cut this time around, which did not occur.